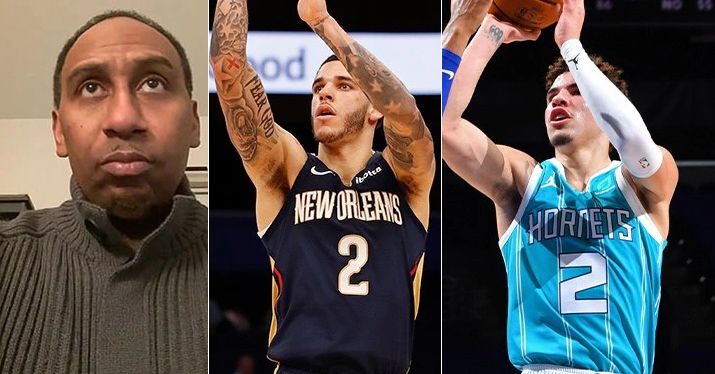 Rookie of the Year frontrunner LaMelo Ball came into the NBA with a lot of hype. At one point, there were serious questions whether or not the 19-year-old would be able to come close to living up to it.
With 34 games in the books, it's safe to make a ruling on the matter: not only has LaMelo lived up to expectations, he has exceeded them.
Between making history, earning the respect of legendary players and coaches alike, and having his Charlotte Hornets in the Eastern Conference playoff race, it's safe to pronounce that LaMelo is for real.
This week, ESPN First Take host Stephen A. Smith decided to give LaMelo his due as a young up-and-coming star. Unfortunately, he did it in a way that brutally dismissed his older brother and current New Orleans Pelicans point guard, Lonzo Ball.
.@MELOD1P is the player we were promised Lonzo Ball would be pic.twitter.com/l6paNAino7

— Stephen A Smith (@stephenasmith) March 3, 2021
"LaMelo Ball can ball," Smith said. "He's the player we were promised Lonzo Ball would be. While Lonzo Ball is a passer, a facilitator, LaMelo Ball is a stone-cold killer in case you haven't been paying attention. He attacks, he wants to shoot, even if he's missing…The clear favorite for the Rookie of the Year."
It's hard to argue with Smith's assessment. Lonzo too came into the league with a ton of hype, but he failed to live up to it. Initially he suggested that his early struggles were due to his faulty Big Baller Brand shoes. Despite changing kicks, his game showed little improvement. Then this past preseason, he put the league on notice – indicating he was finally ready to do damage this year.
Seeing as the Pelicans have spoken with five teams regarding trading him, it's safe to assume that Lonzo once again failed to deliver.
Klay knows how to do Valentine's Day right. https://t.co/Gxt1gRLTX2

— Game 7 (@game7__) February 15, 2021
LaMelo is currently on pace to join Oscar Robertson, Magic Johnson, Ben Simmons and Michael Carter-Williams as the only players to ever average at least 15 points, six rebounds and six assists per game in their rookie seasons.
Lonzo is currently trying to dictate which team he wants to be traded to.
Smith's commentary on the LaMelo vs Lonzo comparison was obviously blunt, but objectively, he is 100 percent correct in this case.
Related: Hideous 2021 NBA All-Star Uniforms Leak (Photos)