College Football
News
Clemson Is In Big Trouble, According To Paul Finebaum
Clemson Is In Big Trouble, According To Paul Finebaum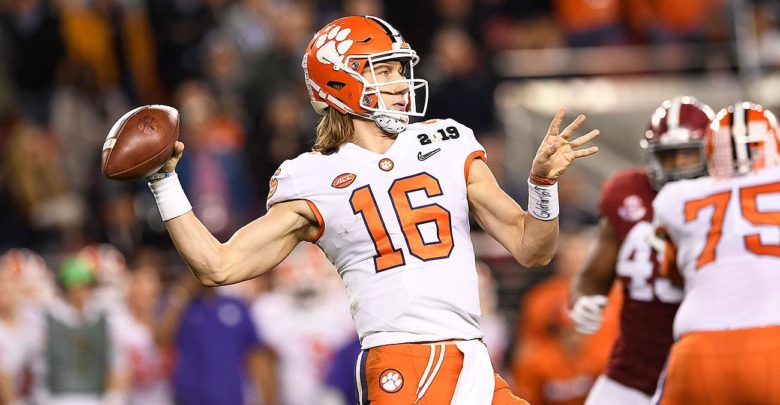 Clemson Is In Big Trouble, According To Paul Finebaum
Clemson is in big trouble, according to Paul Finebaum.
During a recent interview on ESPN's Get Up, the college football analyst suggested that the defending national champions' issues start and end with their starting quarterback.
"Trevor Lawrence has grown a lot of nice hair in the offseason, but he hasn't grown as a quarterback," he said.
"I thought he was one of the greatest quarterbacks I've ever seen and could potentially be the best, but there are quarterbacks all across the board right now who are playing better than him. "
"Maybe the pressure is too much."
Related: Sadio Mane Opens Up About Relationship With Mo Salah
While Finebaum's no nonsense analysis of Lawrence may sound harsh, it is not inaccurate.
The sophomore has underwhelmed throughout each of Clemson's first five games, and his apparent regression has been a big reason why the team has not dominated in the fashion many expected them to.
Related: Are The Angels Hiring Joe Maddon This Week?
After this past weekend's close win over North Carolina, Clemson dropped to No. 2 in both polls behind Alabama.
"They're not one of the top four teams in the country," Finebaum continued.
"They beat North Carolina. North Carolina lost to App. State the week before and Wake Forest the week before that.
"Clemson's best win is by two touchdowns over Texas A&M. Texas A&M had to hold on to beat Arkansas."
🎼 𝘚𝘭𝘰𝘸-𝘔𝘰 𝙎𝙮𝙢𝙥𝙝𝙤𝙣𝙮

🏈 Tyler Davis
🎶Beethoven – Symphony No. 2 in D major (Adagio molto)#ALLIN pic.twitter.com/R9FadJjQxo

— Clemson Football (@ClemsonFB) September 29, 2019
Related: Rutgers Hiring Former Patriots Coach To Replace Chris Ash
So far this season Lawrence has eight touchdowns and five interceptions.
His completion percentage is currently 61.8 – down from 65.2 last year.
Whereas many expected Lawrence to take a big step forward this season, the opposite seems to have happened.
Related: Alabama And Nick Saban Are In Trouble, According To Paul Finebaum
And Finebaum is not the only ESPN analyst who thinks Clemson is in trouble.
"To Paul's point, they're not one of the best teams in college football right now, probably because we undervalued the losses off last year's team," Dan Orlovsky said.
"Four defensive linemen gone and Hunter Renfrow, those guys were huge players. We're seeing in the first month that Clemson is still trying to find a way to replace those guys."
Related: Video Of Jerry Jones Looking Dazed In New Orleans Leaks
It is easy to forget now, but coming into this season Lawrence was viewed as something of an overwhelming favorite to be the first overall pick in the 2021 draft.
With the troubles that the sophomore has encountered this past season, his top-tier NFL status is in serious jeopardy.
For what it is worth, Clemson head coach Dabo Swinney still believes that Lawrence has what it takes to succeed.
Related: Is Nebraska Firing Scott Frost After Latest Embarrassing Loss?
As far as Swinney is concerned, this is all part of the learning process.
"I think (adversity) was great for our quarterback," Swinney said following the North Carolina victor.
"Trevor Lawrence has had zero adversity since he first came to Clemson. 20 games.
"He hadn't had any.
"So in a weird way, I learned a little bit about Trevor that I thought I knew but I hadn't really seen on game day in 20 games," Swinney continued.
Related: Popovich Offers Surprising Take On Kyle Kuzma And Lakers
The Clemson head coach also pointed out that Lawrence has displayed good leadership, even in the face of struggles.
"He had to make some big plays. I thought his leadership was tremendous.
"How he was over there engaging with the defense. Never pouting or anything like that. Just a lot of mental toughness.
"Just thought he was gutsy."
Lawrence and Clemson will have a chance to right the ship on Oct. 12 when they take on Florida State.
Related: Is Texas QB Sam Ehlinger Basically A Worse Tim Tebow?