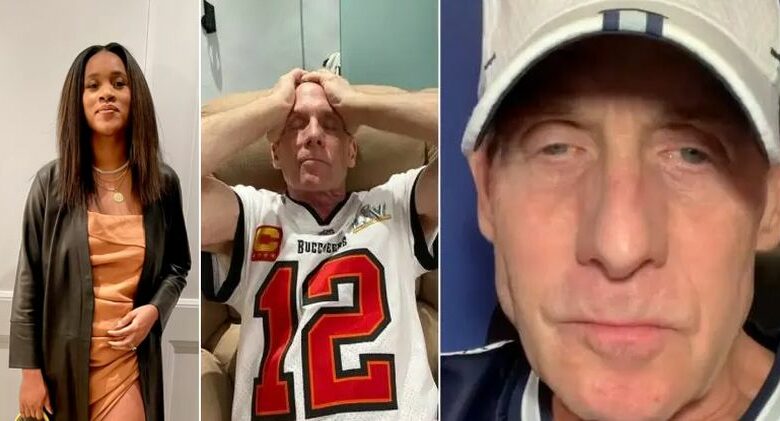 Skip Bayless is one of the most provocative sports broadcasters on the planet. A big part of his rise to prominence and ongoing popularity has been his choice of who he criticizes and the rationales he offers for doing so.
Earlier this year, Bayless was one of the first people to criticize the Los Angeles Lakers' acquisition of Russell Westbrook. He derided LeBron James for okaying it – and ultimately he was proven correct.
This week, Bayless set his targets on Russ once again in a brutal series of tweets.
Who's idea was it to trade for Russell Westbrick??? Whoever it was should be FIRED.

— Skip Bayless (@RealSkipBayless) March 2, 2022
At least the Lakers didn't quit, down 17 in the 2nd quarter to the Clippers. Now they're down 3 at half. But it was pure comedy watching Westbrick taunt Big Zu. Westbrick doesn't deserve to taunt ANYbody.

— Skip Bayless (@RealSkipBayless) March 4, 2022
One person who did not take kindly to this? Russ' wife, Nina. She went after Bayless on Twitter – hard.
I'm tired you you @RealSkipBayless calling my husband out of his name. It is extremely childish. That is my name as well, and many other peoples name. You're disrespectful, and I'm extremely offended by your behavior. You should apologize.

— Nina Westbrook (@ninawestbrook) March 4, 2022
You've got to stop calling people out of their name. You are very disrespectful and a bully. This is why so many young people think it's okay to exhibit this type of behavior. Social media has become such heinous place because of people like you. My name is Westbrook.

— Nina Westbrook (@ninawestbrook) March 4, 2022
Nina also posted this message on Instagram: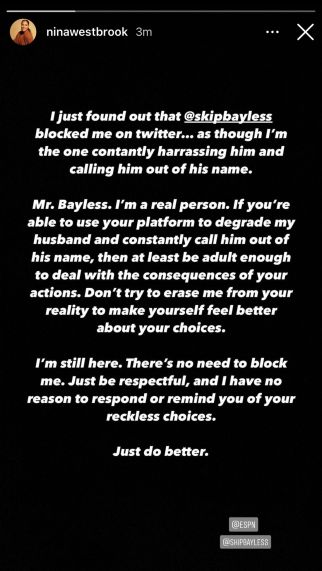 "I just found out that [Skip Bayless] blocked me on twitter … as though I'm the one constantly harassing him and calling him out of his name," she wrote.
"Mr. Bayless. I'm a real person. If you're able to use your platform to degrade my husband and constantly call him out of his name, then at least be adult enough to deal with the consequences of your actions. Don't try to erase me from your reality to make yourself feel better about your choices. I'm still here. There's no need to block me. Just be respectful, and I have no reason to respond or remind you of your reckless choices. Just do better."
Reactions to Nina were mixed. Some felt like she was in the right, whereas others felt like Bayless' criticism wasn't exactly out of bounds.
Girl, he's playing like trash. https://t.co/DJS75GD22w

— BreEze (@JourneyOfLife29) March 5, 2022
Now, I understand his childish personality after they lose a game, and he has to do an interview.
I must say; you are a very strong woman. The responsibilities you have with your business, and your 4 children has to be challenging.. https://t.co/eD7GKww4Vu

— marg mart (@MargDalatl) March 5, 2022
Imagine having a woman that loves you and your name/legacy this much

Has to be a blessing from God

This is why Russ will stay winning no matter what becomes of this outlier season for a collection of supreme talents https://t.co/xcgLOgJzri

— STILL Cuter In Person (@TheTHEHollywood) March 5, 2022
Skip is an asshole. But Russ should do better,
Still looking up at Russ https://t.co/8GtWxk22Ix

— JcP (@magjcP27) March 5, 2022
@ninawestbrook tell your husband to stop playin like shit and skip will leave him alone https://t.co/1SK1tbgpF1

— ItsNothing8.24 (@flyness5) March 5, 2022
Bayless is undeniably a provocateur, through and through. Trolling has earned him millions upon millions of dollars. Whether he is settling the LeBron vs Kevin Durant debate like only he can or revealing Bronny's purported role in Westbrook coming to LA – he knows how to make headlines.
But does that make what he has said about Russ untrue? Probably not. The man is struggling bad this year.
The photos speak for themselves.https://t.co/2wPyNSpPfr

— Game 7 (@game7__) March 5, 2022
Just like when he posted this interesting photo of his wife, Bayless will continue to do whatever gets him engagement both online and on TV.
If that means continuing to bash Russ for his LA struggles – then that is precisely what he will continue to do.
Related: Real Reason James Harden, Kyrie Irving Didn't Get Along On Nets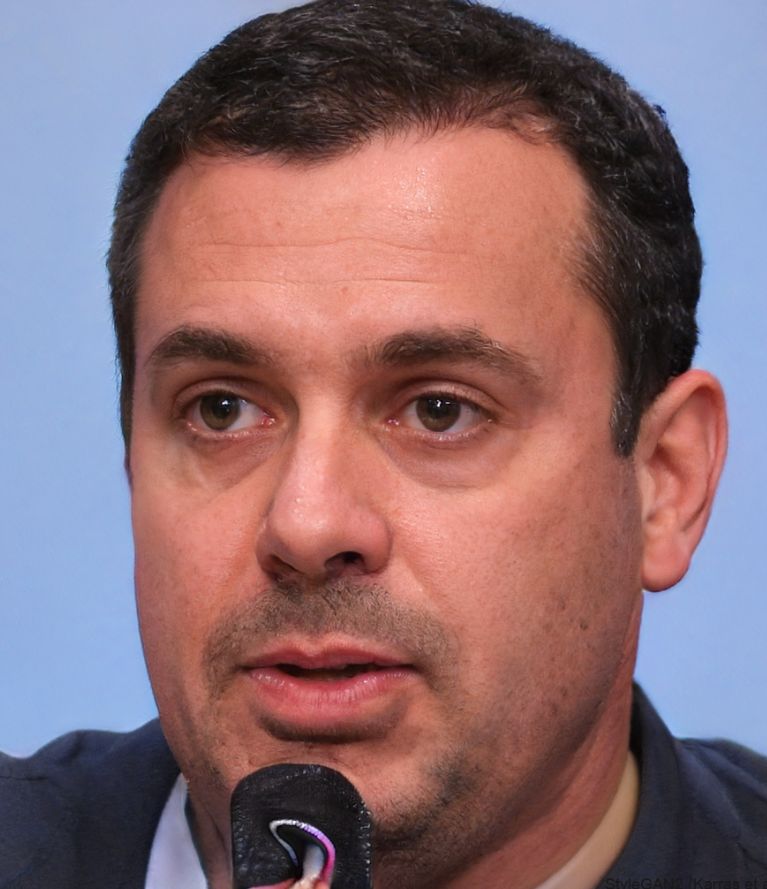 Charles Kruger has been credentialed to cover two Super Bowls, four NBA Finals, and one World Series. A 20-year veteran in the sports world, he has sources spanning the NBA, MLB, NFL, UFC and NASCAR. Currently residing in Los Angeles, Calif., he is Game 7's go-to source for rumors surrounding the Lakers, Clippers and Dodgers.