College Football
News
Joe Burrow Reveals Severity Of Injury From LSU-Clemson
Joe Burrow Reveals Severity Of Injury From LSU-Clemson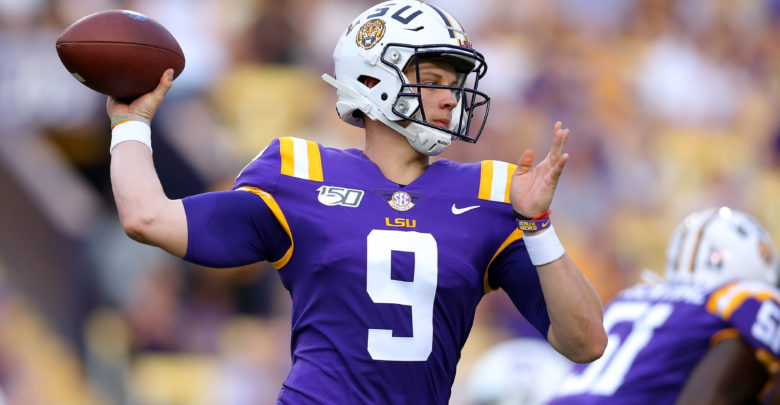 Joe Burrow Reveals Severity Of Injury From LSU-Clemson
Joe Burrow revealed the severity of his injury from LSU-Clemson this past week.
This past Monday night LSU cruised to a reasonably dominant victory over Clemson to win the National Championship.
Burrow looked every bit like what you would expect a Heisman winner to look like, throwing for 450 yards and five scores in the process.
Interestingly enough, despite his stellar performance, Burrow was not at 100 percent for a huge chunk of the outing.
In the early drives of the third quarter, viewers at home noticed that Burrow did not quite look right. Many attributed it to a brutal hit to the ribs he took during a touchdown throw.
Although Burrow did not end up missing any time as a result of the injury, rumors of it persisted.
This week, Burrow confirmed that he did in fact fall victim to an injury during the title game.
Joe Burrow could be dealing with a broken rib… 😱#NationalChampionship pic.twitter.com/MOSN1Ee2ya

— SMH (@BTCballer1) January 14, 2020
"I tore some cartilage in my ribs," he admitted during an interview with Pardon My Take.
The rib damage did not do much to slow Burrow down, though. When it was all said and done the future Cincinnati Bengal amassed 521 combined yards and six touchdowns on the day.
Burrow is expected to be fully healed and ready to roll by the time the 2020 NFL Draft rolls around.
Related: Jim Harbaugh Loses Michigan Star To Transfer