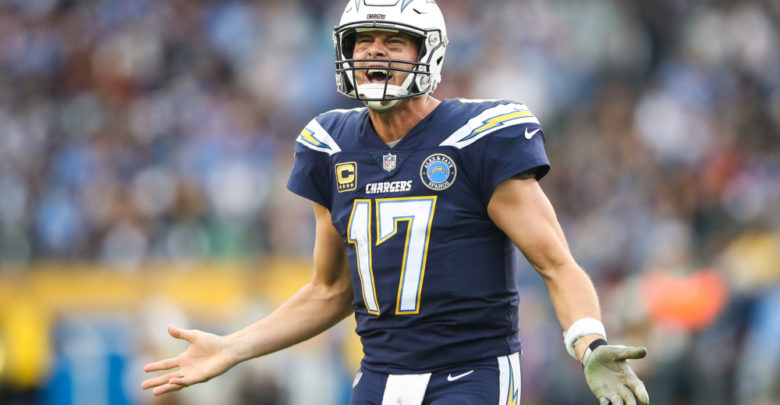 Indianapolis Colts Signing Philip Rivers?
Are the Indianapolis Colts signing Philip Rivers?
Rivers, 38, played what is likely to be his final game with the Los Angeles Chargers last week.
After the outing, he admitted that he wanted to keep playing in the NFL. If that meant he could no longer play for the Chargers and had to go elsewhere, he was okay with that.
"Yeah, I plan to play football, so yeah," Rivers said.
"Again, where that's going to be, I think that's going get sorted out over the next three months, I guess. I've never been in this position.
"I usually don't even know when the league year starts and when all those things are. We'll just kind of see," he continued.
"Again, I'm very thankful for 16 years, and if there's another, I'll be thankful for that one. But I think just with the uncertainty just comes that unknown."
A 16-year veteran, Rivers has widely been regarded as one of the best quarterbacks of his generation. Although playoff success has consistently eluded him, Rivers kept his organization relevant for the better part of more than a decade.
This past season was not kind to Rivers. Los Angeles finished the year 5-11 after being a lot of people's dark horse championship contender, and ended up missing the postseason altogether.
Rivers was also noticeably off in 2019. His 88.5 quarterback rating was the third lowest of his career, and his 20 picks were the second-worst of his career.
That being said, Rivers is still a respected quarterback in the league.
According to CBS Sports NFL insider Jason La Canfora, Rivers could end up making a move to Indianapolis before the start of next season.
"Speaking of Rivers, keep hearing chatter about him ending up with the Colts," he wrote.
"Would make a lot of sense, actually, and playing in a dome at this stage of his career would only help. I have reservations about how much he has left, and the decision making coupled with the declining arm strength could be an issue anywhere he plays."
Decision making and arm strength concerns notwithstanding, a lot also depends on whether Andrew Luck stays retired.
"But if Andrew Luck stays retired, Rivers might be worth a look there," he continued.
"I expect the Colts to be movers and shakers on the trade and free agency front, as well, looking to add more sizzle to the roster, though the draft remains their lifeblood."
Is Rivers really what the Colts need at this stage? It is hard to say.
A lot of people thought that with Luck, Indianapolis could have made a legitimate postseason run in 2019. If the team really is that good outside of quarterback, then yes, Rivers could help a lot.
He would unquestionably be helpful for a Chicago Bears-like group that is one above average quarterback presence away from contention.
But if the Colts are not that, and for most of the year it seemed like the team's issues extended beyond just the quarterback position, then Rivers likely isn't the answer.
Related: Minnesota Vikings Issue Surprising Dalvin Cook Health Update