News
College Football
NFL
Will Jets Fire Adam Gase, Replace Him With Baylor's Matt Rhule?
Will Jets Fire Adam Gase, Replace Him With Baylor's Matt Rhule?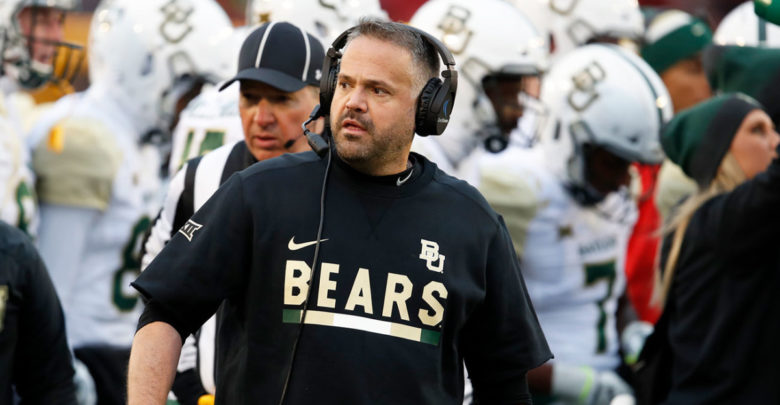 Will Jets Fire Adam Gase, Replace Him With Baylor's Matt Rhule?
Will the Jets fire Adam Gase, replace him with Baylor's Matt Rhule?
Last year's Jets didn't have a pretty record, but with young players like Sam Darnold and pro bowler Jamal Adams playing very well things seemed to be looking up.
The ensuing offseason saw them grab superstars Le'veon Bell and CJ Mosely, and along with him they grabbed a top 3 prospect in the draft from Alabama in Quinnen Williams.
Related: Bears, Redskins or Jets May Sign Antonio Brown
They also brought in Adam Gase from Miami, who was an above average offensive play caller, and also nabbed Greg Williams from the Browns and made him the defensive coordinator, which was a genius move.
Many had the Jets as a dark horse playoff team. What in the world happened?
The blame goes all the way around.
From injuries across the board to questionable play calling on both sides of the ball to pushing to deal cornerstone players at the trade deadline, the question is not whether or not if the organization needs a full reboot, but when, and who they would turn to.
Related: NBA Rumors: Are Thunder Trading Chris Paul To Mavericks or Heat?
And the best candidate for the job almost took control before the season. His name is Matt Rhule.
Just three years ago the Baylor football team was given the death penalty. Not officially, like SMU in the 80s, but close to it.
Transfers and decommitments decimated two classes of players, and the ones who stuck around had little experience. When Rhule first accepted the job, he had nothing.
No connections to Texas high school coaches, little talent in his roster, and hungry Big 12 teams that would presumably feast on his team. Baylor allowed Rhule to have full control of his coaching staff, and he brought in all his own guys. In Rhule's first year, they went 1-11.
Related: Ohio State Is Obviously Better Than LSU, Says CFB Playoff Chairman
But they were competitive all year, they trailed by single digits heading into the fourth quarter nine times, including against heisman winner Baker Mayfield's Oklahoma. The next is the most impressive of his first year: he also managed a top 30 recruiting class with no experience to anyone in the Southwest.
In his second season he went 7-6 with a bowl win against SEC team Vanderbilt, and was only blown out in Morgantown against Will Grier's West Virginia. He had another top 25 recruiting class. And so far this season Rhule has his sights set on another top 30 recruiting class, and has his team sitting at 8-0 and in the College Football Playoff conversation.
Not only that, Baylor used to consistently have a top 5 offense. Now with Rhule Bayor has held every opponent they've played below their points per game average in the high flying Big 12.
Related: NBA Rumors: D'Angelo Russell To Knicks, Bulls Or Kings?
So why didn't the Jets get him last year?
Rhule was ready to accept his contract and become the head coach, but the Jets refused to accept his one condition.
To let him hand pick his own coaching staff.
This mistake cost them a year of potential contention, and every player on that roster grew a year older.
Now the Jets need that culture change even more desperately than before.
Related: Clemson Will Not Make College Football Playoff, Says ESPN
Rhule has a track record at masterfully fast rebuilding jobs – he did a nearly identical three year job at Temple – and he can do it at the NFL level if and only if he gets full control of his staff. It's only fair considering the expectations you put on any head coach stepping into a coaching role in New York.
The Jets better hope that it's not too late to get this guy, because he is by far the best fit for the job.
Related: Clemson Will Not Make College Football Playoff, Says ESPN