College Football
News
Urban Meyer Has Surprising take On Michigan vs Ohio State
Urban Meyer Has Surprising take On Michigan vs Ohio State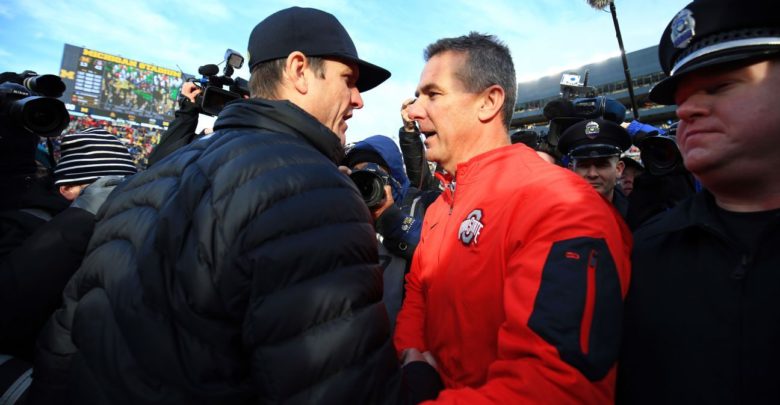 Urban Meyer Has Surprising take On Michigan vs Ohio State
Urban Meyer has a surprising take on Michigan vs Ohio State in a new interview.
This Saturday's looming showdown between the Buckeyes and Wolverines is arguably the biggest game on the college football schedule.
If Michigan wins, they will effectively knock Ohio State down from the pedestal everyone has had them on since the first month of the season. It likely won't be enough to get them out of the postseason, but it would still do some damage.
Should Ohio State win, Jim Harbaugh's second-half-of-the-season resurgence with the Wolverines will all be for naught and he may very well get fired.
The stakes are high.
During a recent interview, Meyer attempted to put into words why the annual battle between Michigan and Ohio State is always such a big deal.
"I was raised you could lose all games but never lose that game," Meyer said in an interview with 10 TV's Dom Tiberi.
"Obviously, that is not true anymore and that has never been true but I was brainwashed. I was in that Woody Hayes era. That was the enemy."
Meyer did not stop there, though.
"I am not sure what would have happened had we lost that game," he continued.
"I just can't imagine losing. How do you go to dinner in Columbus?"
Fortunately, Meyer never had to deal with that problem. During his time at Ohio State, he went a perfect 7-0 against the Wolverines and the ghost of that dominance continues to hang over both programs heading into this weekend.
Related: Winner Of Alabama vs Auburn Is Clear, According To ESPN