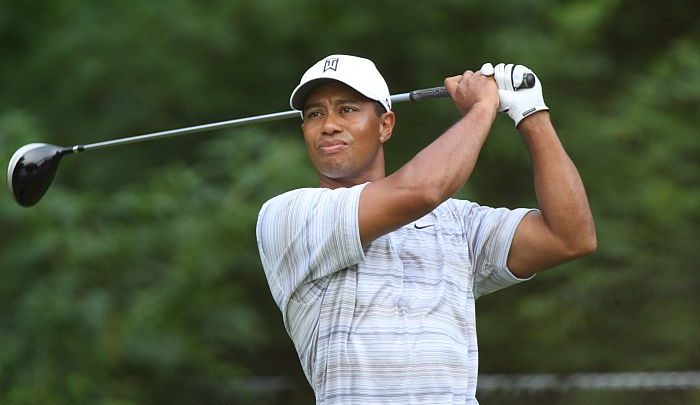 Tiger Woods Hits 'Kobe Bryant' Shot At Genesis Open
Tiger Woods hit a 'Kobe Bryant' shot at the Genesis Open this week.
Woods was just one of several golfers who found a unique way to honor Bryant at the Riviera Country Club on Thursday at the Genesis Invitational.
It is known that Woods and Bryant were extremely close friends. Various members of Woods' team refused to inform him of Bryant's death the day it happened because he was playing and they knew the impact it would have on him.
When they finally did inform him of Bryant's passing, it shook the veteran golfer to his core.
This past week, Woods honored his friend in the most special of ways.
Woods carded an eagle on the first hole of the day on Thursday due to an interesting putt. The putt in question was 24 feet and eight inches long. Bryant, of course, wore the numbers 24 and 8 over the course of his NBA career.
Woods described the incident as "ironic" and admitted he "didn't know about he putt being that long."
First putt of the week for @TigerWoods.

24 feet, 8 inches for eagle.

For Kobe. 🏀pic.twitter.com/cD0tdqTa41

— Golf Channel (@GolfChannel) February 13, 2020
The 41-year-old Bryant died in a helicopter crash alongside his 13-year-old daughter Gianna and seven others at the end of January.
"No matter what we do, I think for a while we're going to always remember Kobe and what he meant, especially here in SoCal and the entire sports world," Woods said.
"Very ironic that it happened to have those numbers on those holes and those exact measurements."
Woods is in the hunt for a victory this week after a strong Thursday showing at the Genesis Open.
At the end of the day, nobody loved winning more than Bryant. So if Woods truly wants to honor his friend in the best possible way, walking away with a victory this coming weekend is absolutely the way to do it.
Related: Chargers Looking At Surprising Candidate For Starting Quarterback