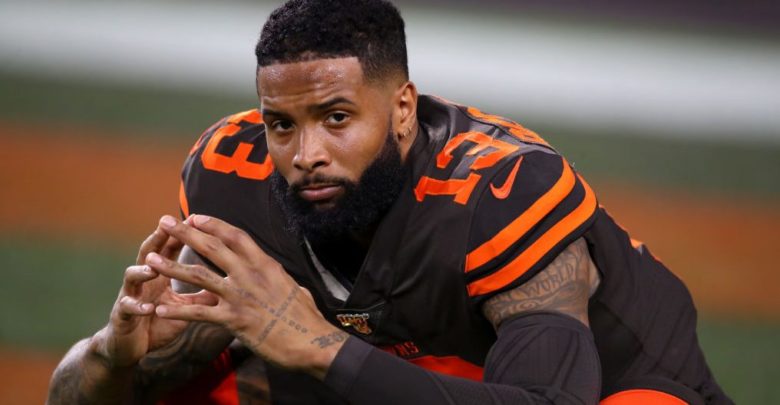 Odell Beckham Is Done With Cleveland Browns
Odell Beckham Jr is done with the Cleveland Browns, that much is clear.
Coming into this season there was a lot of hype about the well-oiled machine that would be the Browns offense.
Between he seemingly inevitable offseason growth that Baker Mayfield would display and a newly-satisfied Beckham, nobody would be able to stop Cleveland.
Of course, once the season actually began the wheels quickly fell off this clown car.
The Browns are currently 5-7 through 12 games and Beckham in particular is having a particularly unimpressive year and looks unlikely to crack 1000 yards on the season.
At the moment, Beckham has 57 receptions for 805 yards and two touchdowns – obviously not the sort of starts Cleveland envisioned when he was brought in from the New York Giants.
Recently, Mike Freeman of the Bleacher report indicated that teams around the league were keeping an eye on the Beckham situation. The assumption was that he might get moved sooner rather than later if things don't improve.
On Thursday of this week, Beckham added some fuel to the fire by not offering any firm commitments as to where he sees himself in the future.
"No one knows what the future holds tomorrow. I couldn't tell you what's going to happen," Beckham said.
"I couldn't sit here and tell you whether I'm going to be here, want to be here, don't want to be here.
"This is exactly where I'm at now and I wouldn't rather be anywhere else. God has a plan. In the offseason, everything will figure itself out."
The first big change Cleveland will no doubt make this offseason is at head coach. But if that does not ultimately resolve the issues they are having – don't be shocked to see Beckham moved relatively quickly thereafter.
Related: Urban Meyer Has Special Advice For Rutgers, Greg Schiano