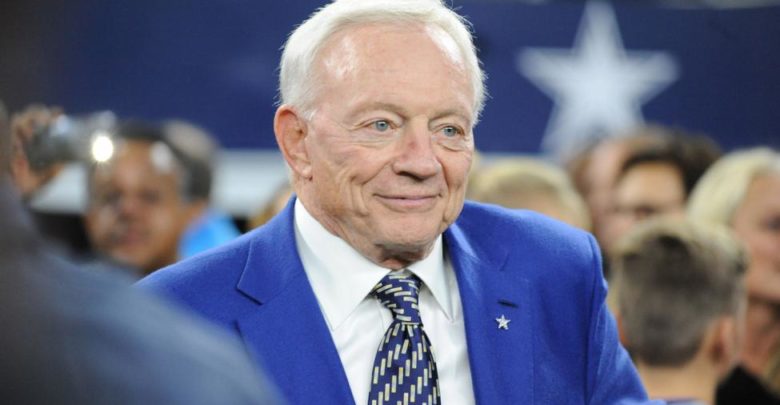 Is NFL Angry With Jerry Jones Over Cowboys Announcement?
Is the NFL angry with Jerry Jones over his Cowboys announcement?
Late Sunday afternoon, Dallas finally made the big reveal that everyone had been expecting for more than a week.
Head coach Jason Garrett was out, and the team would be hiring someone new to take his place.
"We are extremely grateful to Jason Garrett for his more than 20 years of service to the Dallas Cowboys as a player, assistant coach and head coach," the statement read.
"His level of commitment, character and dedication to this organization has been outstanding at every stage of his career.
"His tenure of leadership will be characterized by his ability to produce teams that always played with great effort, emotion and passion, and he represented our organization with great pride, loyalty and respect."
Garrett went 85-67 in his time with the Cowboys, making it to the postseason on three separate occasions. Unfortunately, he only ended up winning two of those outings and never made it past the divisional round.
This past season, Garrett's Cowboys finished 8-8 – the fourth time the team went .500 with him at the helm.
"Jason Garrett's legacy with the Dallas Cowboys will always be that of someone who strived for greatness every day that he walked through the door, and as someone who instilled the virtues of enthusiasm, hard work and appreciation for the profession in all of the men who played with him and for him," Jones continued.
"He is, and always will remain, a cherished member of the Dallas Cowboys family, and his contributions to the organization are greatly appreciated."
While the announcement itself was not especially surprising, the timing was.
Jones opted to tell the world he was moving in a new direction in the middle of Sunday's Philadelphia Eagles vs New Orleans Saints showdown.
According to Jason La Canfora of CBS Sports, the league office was going to be "livid" over the timing of the announcement.
Jerry Jones formally announces firing of a head coach that everyone with a clue knew was gone last Sun, in the middle of a top rival's playoff game. League office will be livid but he won't care. He turned something that was a done deal into a weeklong infomercial for his brand

— Jason La Canfora (@JasonLaCanfora) January 5, 2020
After officially giving Garrett the boot Sunday, Dallas hire Mike McCarthy as the team's new head coach on Monday.
Related: Vikings Coach Mike Zimmer Rejects Jerry Jones' Cowboys