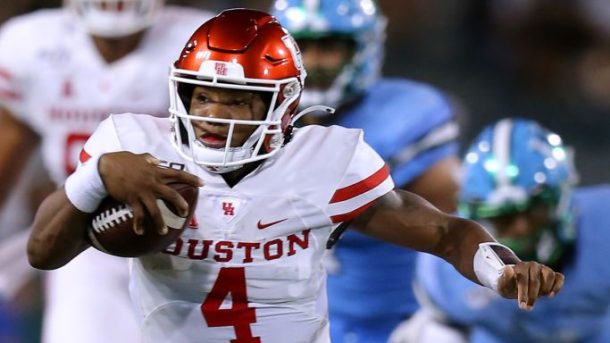 D'Eriq King Transferring To Maryland?
Is D'Eriq King transferring to Maryland?
Earlier this week, King announced that he was officially leaving Houston and entering the NCAA Transfer Portal.
In doing so, he immediately became the hottest young free agent in all of college football.
King has previously been linked to LSU, Miami, Oregon and Rutgers.
On Thursday, a report indicated that Arkansas may have the inside track to lure in the talented dual threat quarterback.
However, early Friday morning, a new potential destination emerged.
According to the Baltimore Sun, Maryland is looking like it might have a very good shot at recruiting King to the program.
"A year after signing quarterback Josh Jackson as a graduate transfer, Maryland is pursuing Houston graduate transfer quarterback D'Eriq King," the report noted.
King established himself as one of the most talented passers in college football during his junior year with Houston. That season, he amassed 2,982 yards and 36 scores on 64 percent passing through 11 games.
Many expected him to build on that momentum in 2019, but clashes with new coach Dana Holgorsen led to him redshirting after just four games.
As a result of that shortened campaign, King recorded just 663 yards and six scores on 53 percent passing.
A final decision on where King will end up is expected at some point in the next few days. Whichever school gets him will turn into an immediate contender.
Related: Georgia Makes Surprising Coaching Change