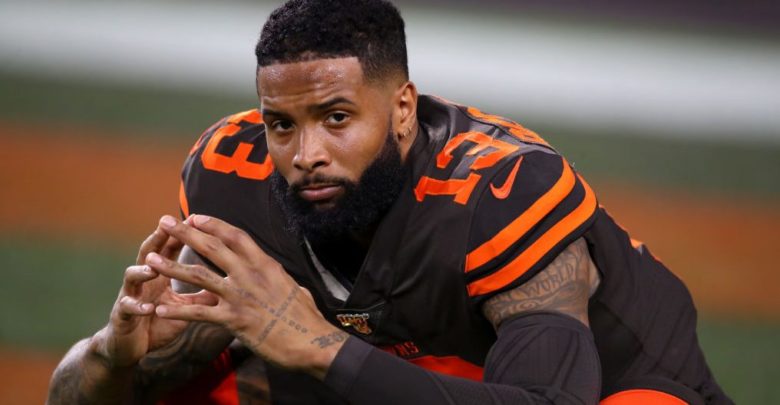 Browns, Patriots Working On Odell Beckham Trade?
Are the Browns and Patriots working on an Odell Beckham trade?
Both Cleveland and New England are facing interesting offseasons.
Last year, the Browns gave up a ton of assets to acquire Beckham in hopes that he would jive with quarterback Baker Mayfield. That did not end up happening.
Mayfield and Beckham never quite got on the same page. The latter was oft-injured and underperformed relative to his years with New York, and the former regressed badly from his rookie campaign.
Things got so bad, at one point, that Beckham was literally begging opponents to trade for him during games.
While the organization insists that it made up with its star wide receiver, many think a trade is inevitable.
Which brings us to the Patriots.
New England faces a scenario where it may lose starting quarterback Tom Brady.
The team has already committed to paying him his price of roughly $30 million annually, but that is not all Brady wants. He also wants offensive support.
That is where the Browns may come in.
Recently, CBS Sports analyst Will Brinson suggested a scenario where Cleveland sends Beckham to the Patriots in return for a first round draft pick.
"Maybe Kevin Stefanski can fix everything," he wrote.
"But my gut says the Browns would love to cut their losses by landing a first-round pick in this draft, and the Patriots have to be worried about simply finding a first-round impact guy or finding help for Brady in free agency. There simply isn't much out there."
In Beckham, Brady would theoretically have his best offensive option since tight end Rob Gronkowski.
Beckham, on the flip side, has repeatedly said how much he wishes he could play for Bill Belichick and alongside Brady.
On paper, the deal would work for both sides. Will it actually end up happening, though? Time will tell.
Related: Chargers, Raiders Frontrunners In Tom Brady Sweepstakes