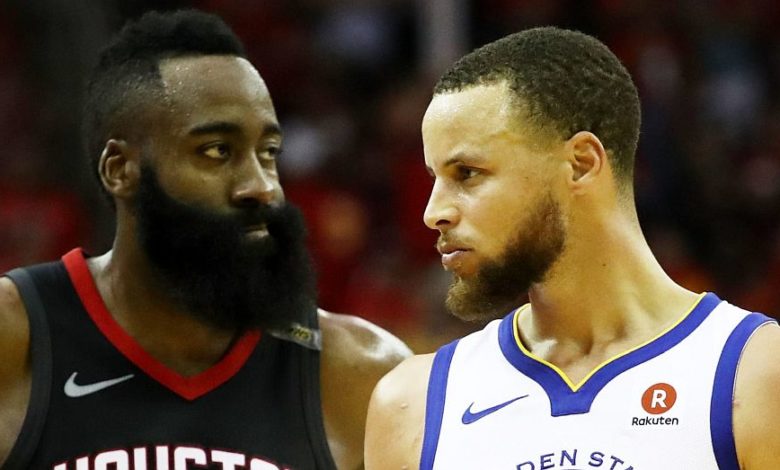 The Golden State Warriors briefly considered making a trade offer for disgruntled Houston Rockets guard James Harden. Ultimately, the organization decided not to pull the trigger.
On Tuesday, Monte Poole of NBC Sports revealed the brutal assessment of Harden that led to Golden State passing on his services.
"In exploring avenues to get back into the thick of the championship chase, multiple league sources say the Warriors cast a wide hypothetical net that included James Harden," Poole wrote.
"Though the vision of Harden moving into the Kevin Durant role was intriguing, the Warriors realized the return would be no better than a short-term gain while punching a hole in their future."
The big problem Golden State had with Harden was his attitude and potential fit into their lineup from a mindset perspective. This is a franchise that has succeeded over the past decade because of a system buy-in from all parties involved. There were legitimate questions in the front office on whether Harden would in fact buy in.
"No, the bigger issue for the Warriors would have been trying to squeeze Harden, as comfortably entitled as any player in the league not named LeBron James, into a culture that demands accountability and schemes that require collaboration," Poole continued.
"Harden, after eight years as the undisputed centerpiece, likely will be what he became during his time in Houston. His dependence on isolation and over-dribbling would undermine the movement-and-flow principles coach Steve Kerr and his staff have emphasized for six years and counting."
With the Warriors effectively taking themselves out of the sweepstakes for Harden's services, the Rockets now have one less potential suitor to strike a deal with.
And if the organization is truly sticking to its suggested mantra of not trading Harden for anything other than a massive haul, then he could end up staying in a Rockets uniform for quite some time.
Yikes. https://t.co/FPN0pOZYH6

— Game 7 (@game7__) December 8, 2020
For now – he is avoiding joining his team in training camp. On Sunday, new Rockets head coach Stephen Silas confirmed that he had no idea where Harden would ultimately show up.
"I would just say I want him here, and I want him to be a big part of what we're doing," Silas said.
"I'm excited to coach him and have him be a part of what we just had out there with a good practice, with a bunch of guys who are working hard on both ends of the floor and had a good vibe about them."
Yikes. James Harden and the Rockets definitely aren't on the same page right now. https://t.co/cRlMrlWNUy

— Game 7 (@game7__) December 7, 2020
When pressed on Harden's long-term commitment to the organization, Silas evaded the question.
"That's a question you're going to have to ask him when he gets here," Silas responded.
"We're looking forward to having him here and getting to his individual workout. That's the word I heard from the pipeline. Once he gets here, obviously the best communication for me would be face-to-face communication — not text, not phone, not anything else.
Alabama went after Coach O hard after the game. https://t.co/SUduHNyY5I

— Game 7 (@game7__) December 6, 2020
"I'm looking forward to him getting here, getting in the building, and then we can talk about what's best. But you know, that's kind of a work in progress right now."
This Harden drama feels like its rapidly speeding its way to a very messy conclusion.
How will all this ultimately play out? Time will tell.
Related: Stephen Curry Reveals One Big Goal Before Retirement