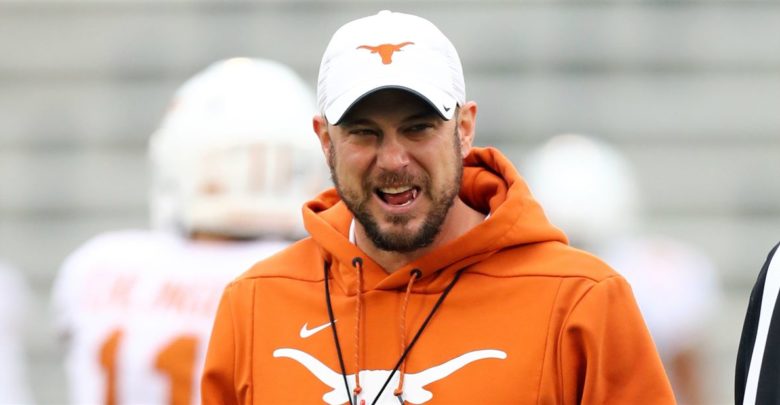 Texas Makes Major Coaching Change
Texas made a major coaching change on Tuesday.
Coming into this season expectations were very high for the Longhorns. It felt like the program gained a ton of momentum last year and that in 2019 the sky was the limit.
Maybe Texas would simply challenge Oklahoma for the Big 12 crown. Perhaps they would even contend for a College Football Playoff spot.
We all know how things turned out.
There was no College Football Playoff bid for Texas in 2019. The Longhorns were never even in serious contention for the conference crown.
Oklahoma remained Oklahoma, and Baylor had the year everyone expected Texas to put together.
After finishing the season 7-5, people figured that Tom Herman was on the hot seat. Sure, he would likely not get fired this year – but he needed to shake things up on his staff.
And shake things up he did.
Herman swiftly fired Todd Orlando as soon as the year ended and then began to search for a replacement.
The replacement would have to be really, really good, we all assumed.
On Tuesday, fans learned who the replacement was going to be: former Rutgers head coach Chris Ash.
Ash was fired by his previous employer in September after amassing an 8-32 record and consistently having one of the worst defenses in college football.
#Texas has officially announced its hire of new defensive coordinator Chris Ash. Here's HC Tom Herman's statement: pic.twitter.com/FL4lqH0Wmu

— Kaelen Jones (@kaelenjones) December 17, 2019
"After taking a hard look at a lot of options at defensive coordinator, Chris was the one that continued to stand out," Herman said this week.
"We couldn't be more excited what he'll add to our staff. … We look forward to his arrival in Austin, getting to work, and him and his family joining the Longhorn family."
Herman and Ash previously coached together at Ohio State. Clearly Herman is hoping that the pair will be able to replicate that success at Texas.
Will that dream ultimately come to fruition? We'll find out fairly early come the 2020 season.
Related: Alabama vs Michigan Winner Is Clear, Says Computer Model