College Football
News
Paul Finebaum's Brutal Message To Gus Malzahn
Paul Finebaum's Brutal Message To Gus Malzahn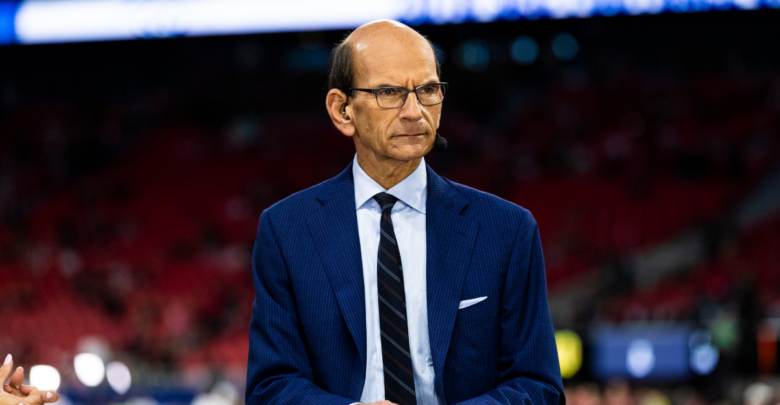 Paul Finebaum's Brutal Message To Gus Malzahn
Auburn fell to Texas A&M 31-20 this past Saturday. The loss put the Tigers at 5-4 on the year – not exactly where the program hoped to be at this juncture.
Following the outing, Auburn head coach Gus Malzahn and downplayed the disappointment of this past season. He described the year as "solid," and really didn't seem to fully grasp the frustration surrounding his squad.
On Monday, college football insider Paul Finebaum addressed the situation.
"You can't walk those comments back," he said.
"Once they're in the water, you can't just dive in and fish them out. This feels more serious than other years. December is never a good mood for Gus Malzahn. It reminds me of three years ago when we kept hearing the speculation.
" Let's try to cut to the chase and talk about the reality. The administration is behind him. You have an athletic director who is all in. You have a president who is an interim and has been through this before, then you have a trustee and a group of boosters who want Gus Malzahn out," he continued.
"It's really a matter of, do they want to spend the money? And secondly, do they have someone in mind?"
In Finebaum's estimation, firing Malzahn at this point simply doesn't make sense.
"You just cannot fire someone like Gus Malzahn, who is successful by record, and bring someone in without knowing what you're doing," he continued.
"We see that all the time in the country. It usually makes the situation worse. You know what you have with Gus Malzahn. You guys talk about it every day. You've got a good coach, who will occasionally win a big game.
"There's evidence across the board that he's capable of that. But in the end, it always seems to land on the same record. That's the frustration of the Auburn family."
Malzahn owns a 67-35 overall record at Auburn. Will that be enough to make people forget about this season's collapse? Time will tell.