College Football
News
Oregon And Utah Are Not Good, According to ESPN
Oregon And Utah Are Not Good, According to ESPN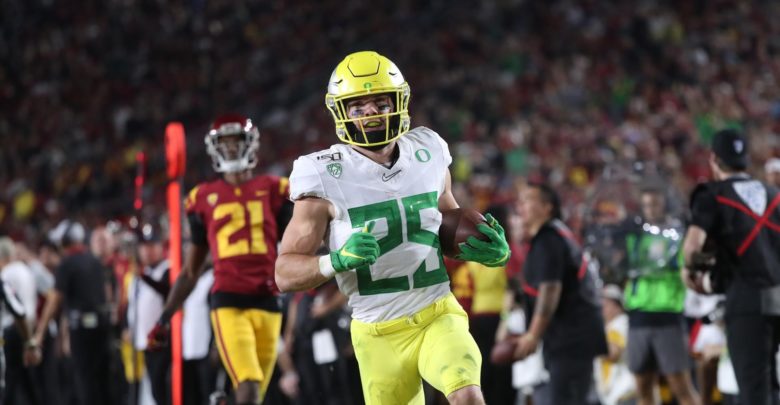 Oregon And Utah Are Not Good, According to ESPN
Oregon and Utah are not good, according to ESPN.
When Oregon lost to Auburn early this season, it looked as though any shot the Pac-12 had of being represented in the postseason was gone.
Throughout the season the Pac-12 would essentially cannibalize itself, with teams on the come-up being beaten by significantly weaker programs – much to the detriment of the conference as a whole.
Somehow, despite all the noise, Oregon has rebounded from the disappointing early season loss to put together a fairly solid season – just like Utah.
It now appears that whoever wins out between these two will boast a 12-1 mark, better than the 11-1 that Alabama would have if they win out.
However, according to ESPN insider Paul Finebaum, a 12-1 Pac-12 team is not necessarily better than an 11-1 SEC team.
Alabama has twice won the National Championship without winning its own division.

Is there a chance the Tide still makes it in the Playoff? pic.twitter.com/K7XpqP6oZj

— Get Up (@GetUpESPN) November 20, 2019
"Quite frankly, I'm not impressed with Oregon and Utah," Finebaum said on Get Up.
"They're gonna win the Pac-12, but Alabama could win the Pac-12.
"I think as you get closer to the examination, you're going to find that Alabama's resume is going to trump Oregon and Utah's with one exception. They will not have a conference championship."
Will a 12-1 Pac-12 squad really get jumped by an 11-1 Alabama?
We'll find out for sure over the next few weeks.
Related: Mason Rudolph Revealed Who Really Started Myles Garrett Brawl