College Football
News
Michigan Makes Final Decision On Jim Harbaugh
Michigan Makes Final Decision On Jim Harbaugh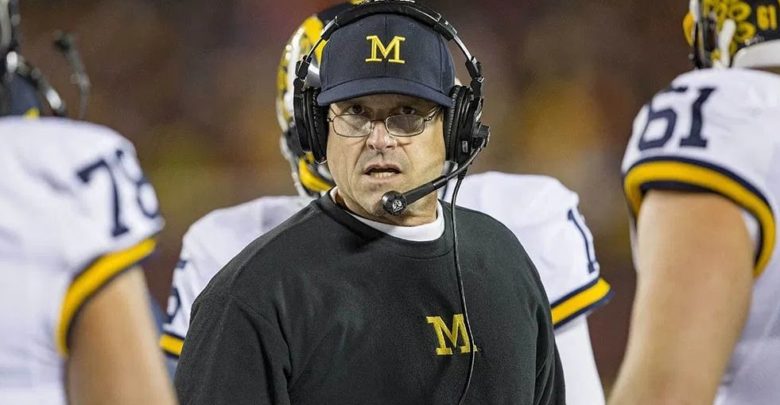 Michigan Makes Final Decision On Jim Harbaugh
Michigan made a final decision on Jim Harbaugh this week.
Harbaugh, 55, suffered yet another embarrassing loss to rival Ohio State on Saturday.
In five seasons with Michigan, Harbaugh has not beaten the Buckeyes once.
Heading into this season there was some hope that with Urban Meyer gone the path had been cleared for Michigan to finally truly match up with Ohio State.
As everyone saw in this weekend's 56-27 romp, clearly those dreams never materialized.
In the aftermath of the big loss, many speculated whether Harbaugh's time at Michigan would come to an end as a result.
According to Ethan Sears of the Michigan Daily, the answer is no.
Don't think this will surprise anyone, but some news: Michigan has no plans to fire Jim Harbaugh.

Story: https://t.co/taxgKnH4W8

— Ethan Sears (@ethan_sears) December 1, 2019
"Though some fans have called for his dismissal, both throughout the season and in the wake of Saturday's loss to Ohio State, Michigan coach Jim Harbaugh's job is safe heading into next season, according to multiple sources close to the University who spoke to The Daily on condition of anonymity, as they were unauthorized to speak publicly on the matter," he reported.
The reality is that while Michigan's season was disappointing relative to the expectations many had, a 10-win campaign is still in the cards with the bowl game.
In his time with the Wolverines, Harbaugh is 47-12. Without the Ohio State losses that loss record would be five less.
At the end of the day, Michigan is not on Ohio State's level and likely never will be. But the program still trots out a pretty impressive football team on an annual basis under Harbaugh, and there is value in that as well.
Related: New Danica Patrick Instagram Photo Goes Viral