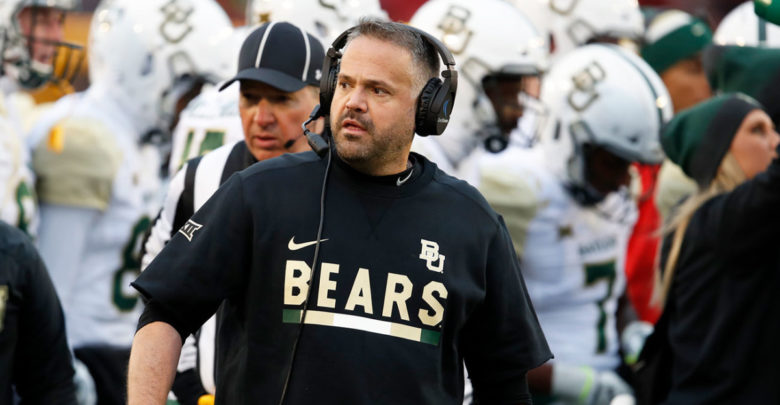 Matt Rhule Reveals Why He Picked Panthers Over Baylor
Matt Rhule revealed why he picked the Panthers over Baylor on Tuesday.
Essentially, he felt like he had done everything he set out to do with the Bears and needed a new challenge.
"I came here with a purpose. I felt like I was called here for much more than just coming to coach football," he said to the media.
"I felt like I was here to, more important than anything else, get the football program back in line with the university. And I know we've done that.
"And I felt like we did that, really, after the first year. I would've been at peace saying 'Hey, it's time for me to move on' after the first year. So there's a different challenge ahead for me."
Rhule will step into one of the better NFL vacancies around. Although the quarterback situation in Carolina is still up in the air, running back Christian McCaffrey is one of the best players in the league.
Still, despite the opportunity in front of him, Rhule gave serious consideration to whether he wanted to leave Baylor.
"I wasn't sure when it was supposed to be, I wasn't sure what I would do," he said.
"I prayed on it, I thought about it, I talked to people about it. And in the end, I would've loved to have been here and coached those kids again.
"But they're in good hands. They'll win and they'll continue to do things right off the field. I just felt like my work was done and it was time to go try to turn around another program."
Rhule's stint at Baylor was extremely impressive. In a lot of ways it was what Texas fans had hoped would occur under Tom Herman.
With him at the helm, Baylor went from being 1-11 in his first year to an 11-victory campaign in 2019.
While it is no guarantee that he will be able to replicate his collegiate success at the professional level, there is a reason why Rhule was one of the hottest names around over the past few weeks.
Related: New Orleans Saints Losing Key Star