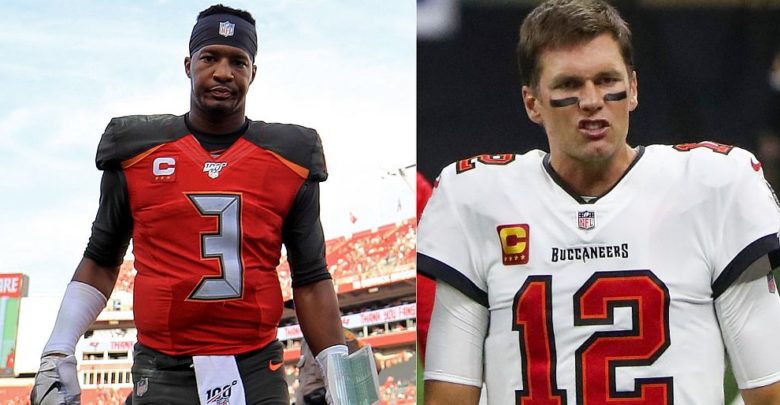 After much offseason hype, Tom Brady and the Tampa Bay Buccaneers lost their first game of the season against the New Orleans Saints last Sunday.
Although the end result wasn't particularly surprising given just how good the Saints are, it immediately sent folks into a panic.
Quickly, an interesting narrative emerged: the Buccaneers were better off with Jameis Winston as the team's starting quarterback.
NFL analyst Bucky Brooks appeared on The Herd with Colin Cowherd on Friday and said this much.
"I think Tampa Bay may have a little buyers remorse," he argued.
"If you look at the last 10 games he has played, Jameis Winston has been a better player. I don't think Tom Brady can turn it around. Completion percentage, yards per attempt and passer rating are all in the bottom five of the league during that span."
Over their last 10 games, Winston recorded 22 touchdowns to Brady's 15. At the same time, he has also been sacked way more (29 vs 20) and thrown significantly more picks (25 vs 7).
All in all, 10 games is a bit of an arbitrary total given that we're talking about 16-game seasons. Comparing how the two performed last year, when they were starters, paints a fairer picture of what both bring to the table.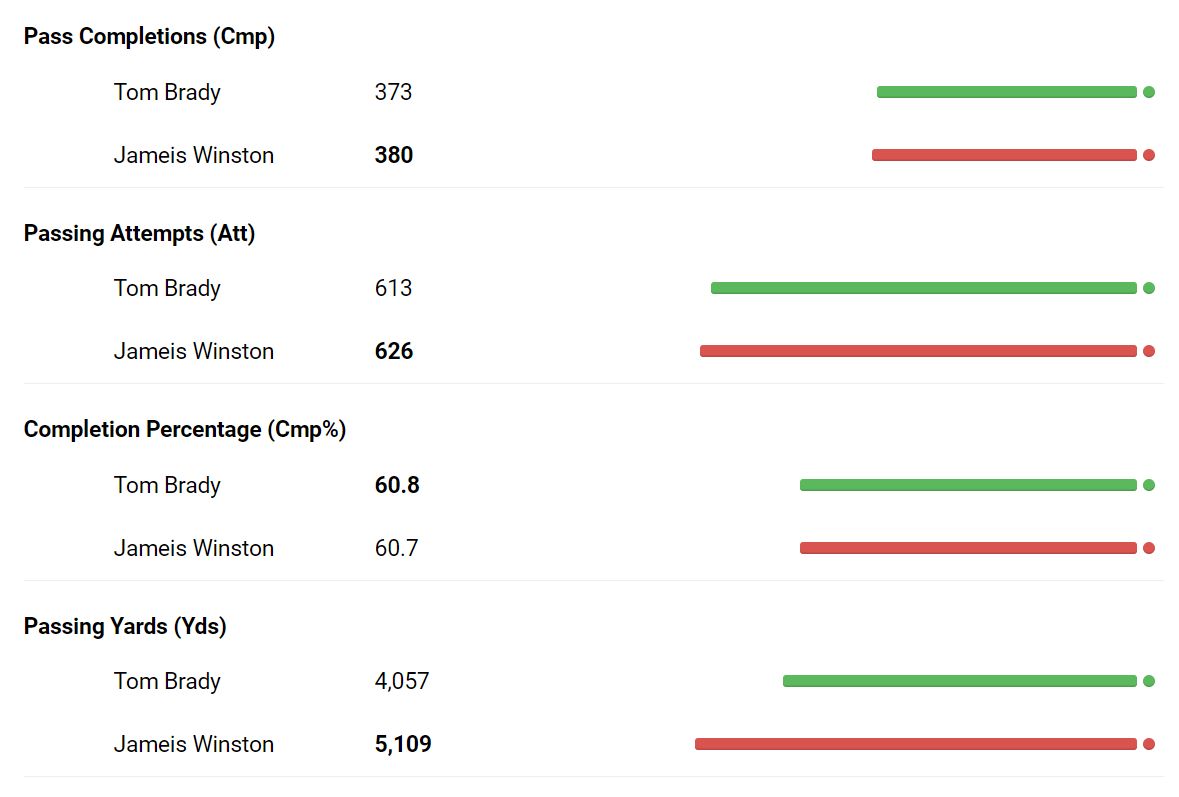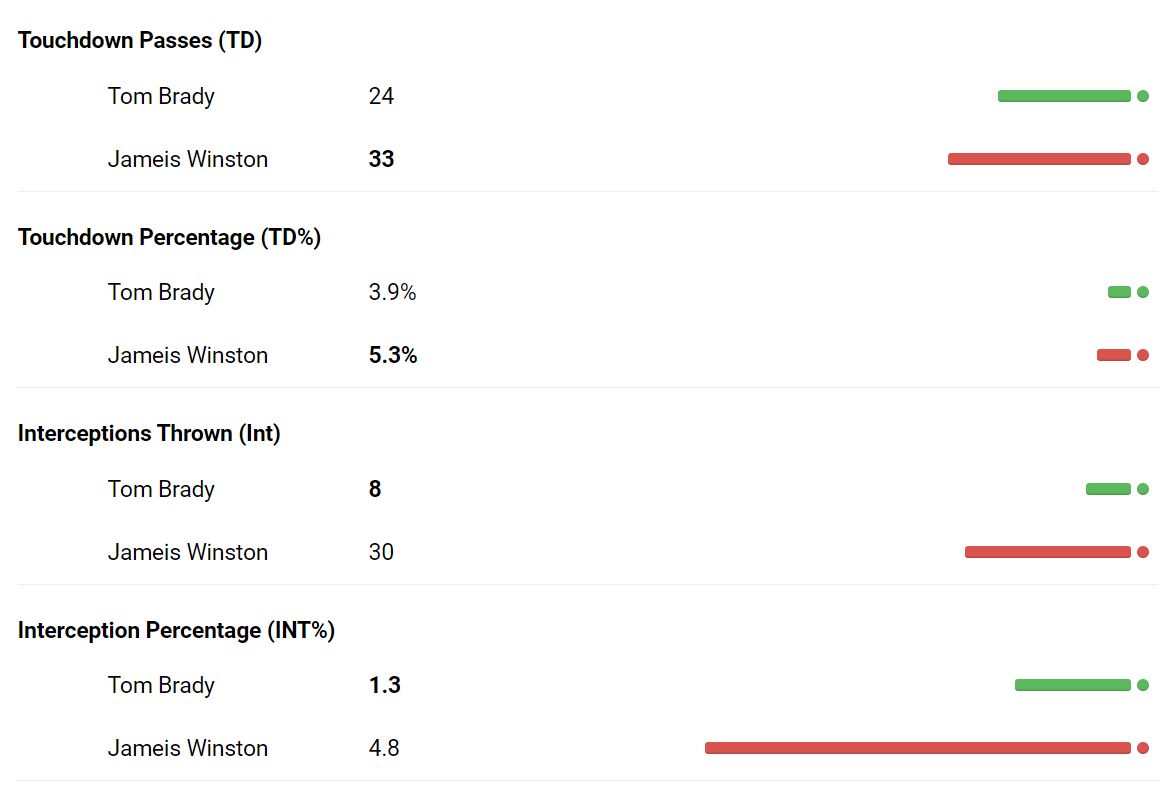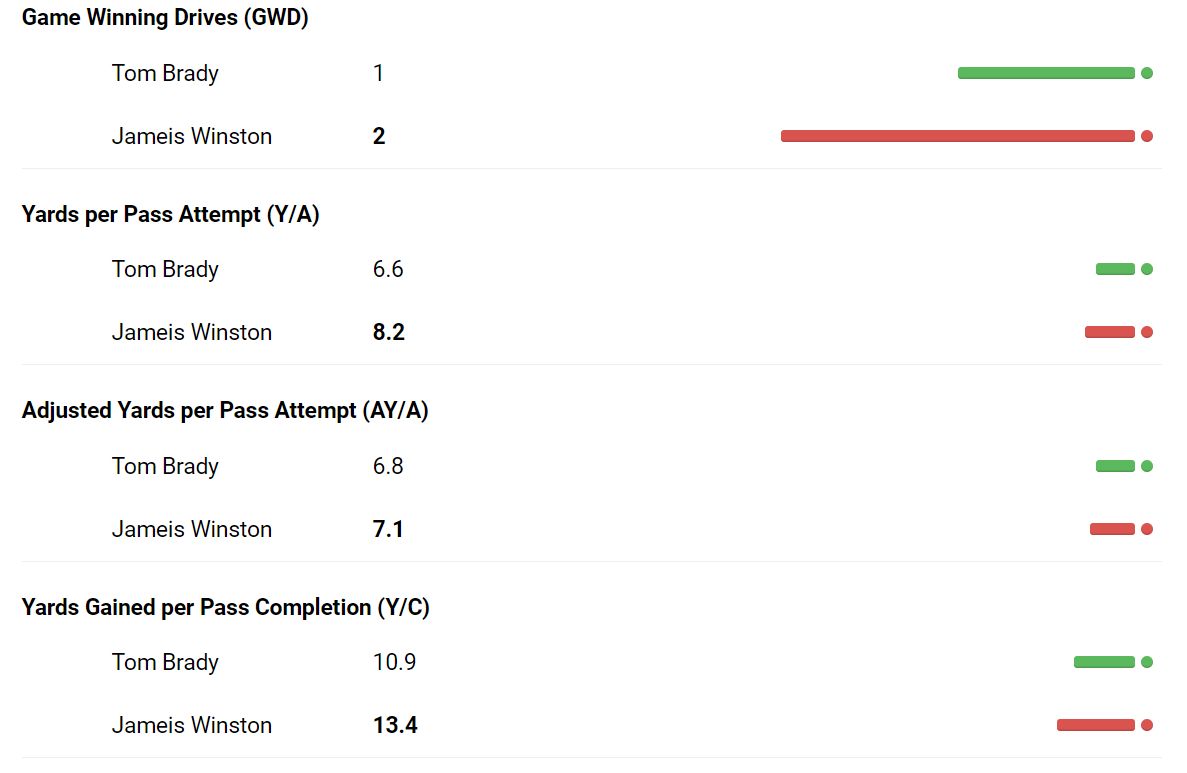 (via NFL Comparisons)
"I love Tom Brady for all the things he's done, but I don't think he will ever return to being the player that you saw in New England," Brooks added.
In Tampa Bay's first game of the season, Brady recorded two touchdowns and two interceptions to go along with 239 yards passing.
In case you're wondering why Bronny James is trending on a Saturday morning. https://t.co/T98xyQ4Jel

— Game 7 (@game7__) September 19, 2020
After the game, head coach Bruce Arians – who was no big fan of Winston's – acknowledged that Brady was responsible for both picks.
"On the first one, Evans had the correct read while Brady did not," he said.
"The second one was simply a poor decision by Brady. One was a miscommunication between he and Mike [Evans]. He thought Mike was going down the middle. It's a different coverage. Mike read it right. He should've bent across his face, but Tom just overthrew it.
"The other one was a screen pass with an outlet called. He threw the outlet, and there was a pick six. Bad decision."
Myles Garrett didn't bite his tongue. https://t.co/jwzGxcfaY0

— Game 7 (@game7__) September 18, 2020
Brady, for his part, owned the coach's assessment.
"He's a coach and I'm a player – just trying to win a game," he said on Thursday.
While Week 1 was a tough go for Tampa Bay, things get easier over the next few weeks.
Next up will be a Carolina Panthers squad coming off a loss to the Las Vegas Raiders, then a Denver Broncos team that didn't look particularly impressive against the Tennessee Titans last Monday, followed by an LA Chargers group that won their Week 1 outing because the opposing team's kicker's leg fell off, and finally the Chicago Bears who only escaped with a victory in Game 1 because the Detroit Lions are the Detroit Lions.
Odell kept it real. https://t.co/hDGPKniBEG

— Game 7 (@game7__) September 18, 2020
There is a very feasible scenario where the Bucs don't lose again until Oct. 18 when they take on the Green Bay Packers.
However, if they do fall more than once between now and that Packers game, and if Brady does keep throwing as many interceptions as touchdowns, then don't be surprised if the "Is Brady washed?" talk rears its ugly head again.
Related: Giannis Antetokounmpo Gets Very Honest About MVP Win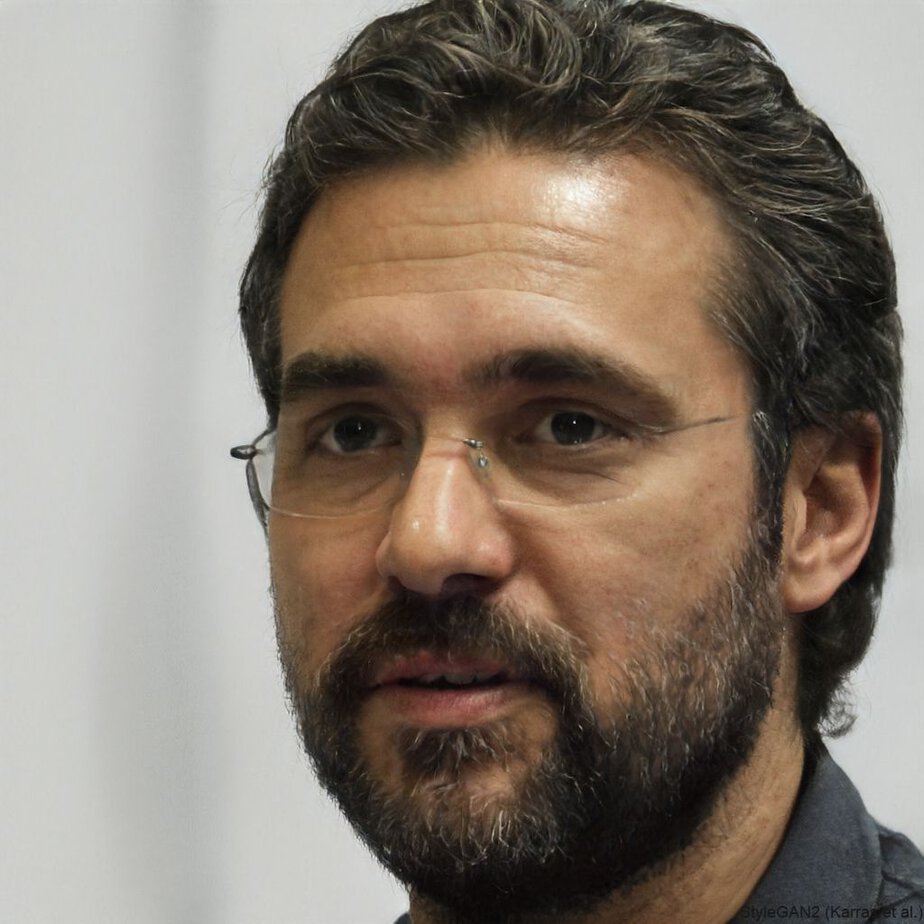 A graduate from the University of Texas, Anthony Amador has been credentialed to cover the Houston Texans, Dallas Cowboys, San Antonio Spurs, Dallas Mavericks and high school games all over the Lone Star State. Currently, his primary beats are the NBA, MLB, NFL and UFC.