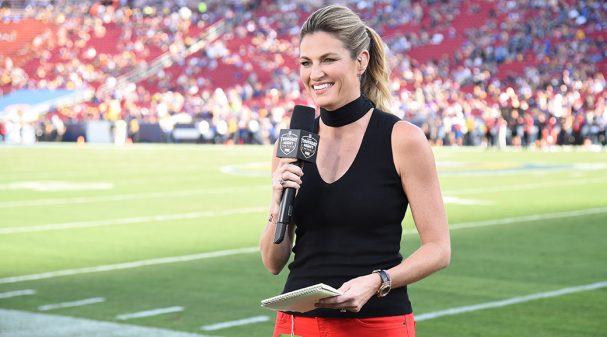 Erin Andrews Has Message For 49ers Star
Erin Andrews had a message for a 49ers star following his team's dominant victory in the NFC Championship Game.
Fresh off securing a spot in the 2020 Super Bowl, the Fox Sports broadcaster shared a tweet with Niners corner Richard Sherman.
Six years ago, the pair participated in one of the most entertaining postgame clips of all time when the Seattle Seahawks defeated the San Francisco 49ers for the NFC title. At the time, Sherman was a member of the Seahawks.
Well, in 2020, six years later, both took a moment to acknowledge how far they have come.
One of the coolest moments of my career @RSherman_25 @richeisen https://t.co/w0XmvAxS4h

— Erin Andrews (@ErinAndrews) January 19, 2020
6 years to the day! Congrats @RSherman_25 and I'll see you in Miami! #ForeverLinked #BestCBInTheGame #CoolestMomentInMyCareer @49ers pic.twitter.com/6g1S5wazu1

— Erin Andrews (@ErinAndrews) January 20, 2020
"6 years to the day!" Andrews wrote on Twitter.
"I'll see you in Miami!"
This year's Super Bowl will take place on Feb. 2 in Miami, Florida.
The Chiefs have opened as an early favorite over the 49ers, but only by about 1 point.
The line will likely shift dramatically over the next week and change, as bettors jockey over who has the advantage heading into the big game.
Related: Patrick Mahomes' Girlfriend Goes Crazy After Titans Game