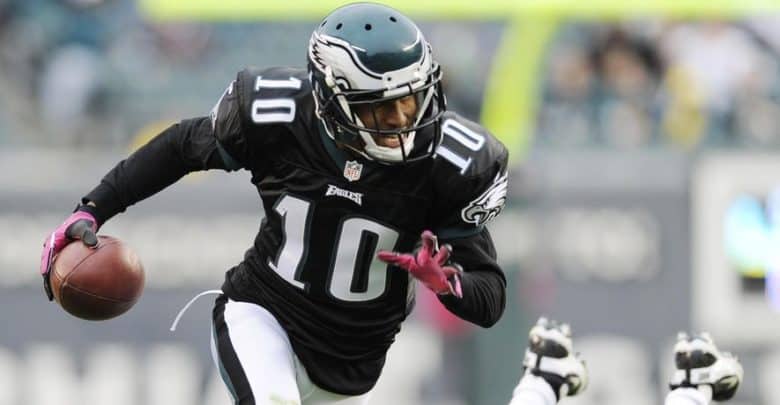 Eagles Issue Surprising DeSean Jackson Health Update
The Eagles issued a surprising DeSean Jackson health update on Monday.
One day removed from unarguably the team's biggest win of the season, Philadelphia announced that Jackson could rejoin his teammates in time for the divisional round of the NFL playoffs.
The Eagles beat the Dallas Cowboys on Sunday to take control of their playoff fate. A victory next week versus the New York Giants, or a Dallas loss against the Washington Redskins, would secure a postseason berth for Philly.
Jackson has been on the IR after being forced out in Week 9 with an abdominal injury. Due to the fact that he is on the IR with a designation to return, he would not even be eligible for a comeback until the playoffs.
DeSean Jackson is expecting to re-join the team on the field should the Eagles advance to the divisional round of the playoffs, a source said. He is feeling good and clocking 19 mph in rehab. Not eligible to return from IR until Round 2 of postseason.

— Tim McManus (@Tim_McManus) December 23, 2019
According to ESPN NFL insider Tim McManus, Jackson is "feeling good" and showing off his old speed at this point.
Jackson came back to the Eagles earlier this year after having spent the last few seasons with the Redskins and Tampa Bay Buccaneers.
In his first game of the season, Jackson caught eight passes for 154 yards and two scores.
Unfortunately, he was subsequently injured in Week 2 and then missed the following six weeks of action.
If Jackson is in fact ultimately able to return for the playoffs, it would be a huge boost for Carson Wentz and the offense.
Related: Browns Trading Odell Beckham To Green Bay Packers?
Michael Kyaw, initially a PR Manager, built up a valuable network of connections in the sports world that he then utilized to become an influential sports business reporter. His work has been published on Fox Sports, Bleacher Report, Fansided, ESPN and the Wall Street Journal.