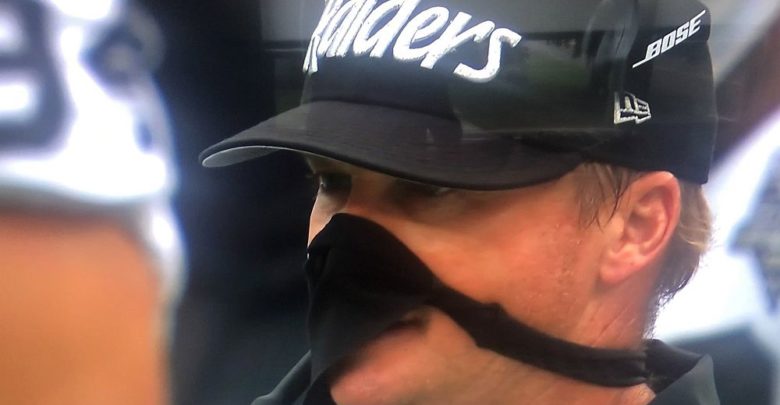 Jon Gruden wore an interesting face mask for Sunday's game between the Las Vegas Raiders and New England Patriots.
Fans at home couldn't help but notice that the Raiders head coach didn't quite look right on the sidelines.
Many speculated that he was simply wearing a pair of panties on his face and pretending it was a face mask.
WTF is Gruden wearing panties as a mask 😷 now?! Are they sponsored? They are from Vegas now! #Raiders pic.twitter.com/bWXI3V5HMi

— dmackdaddy (@dmackdaddy) September 27, 2020
I've been calling them face panties….

Gruden felt sexy today and wore his sexy revealing face panties… thong https://t.co/jdPZoQtWOi

— Tight In Loose Off (@TightInLooseOff) September 27, 2020
Gruden with stripper panties on his face.

— Tatum83 (@GabrielTony83) September 27, 2020
is Gruden wearing a mask or his panties ??? 🤣🤣🤣🤣 pic.twitter.com/9h2vpbI4Gy

— Ryan O (@RyanO16007467) September 27, 2020
John gruden mask literally looks like a pair of panties

— Henny Powers 👨🏽‍🚀 (@andymanziel) September 27, 2020
Is it just me or is Gruden using panties for a facemask? pic.twitter.com/Hdx9eMs0sc

— Chelsea (@CH3L5EA_) September 27, 2020
Mask issues notwithstanding, Sunday wasn't a great day for the Raiders. The team ultimately fell to the Patriots 36-20.
Quarterback Derek Carr finished with 261 yards on 24 of 32 passing and two scores – a statistically solid performance. Unfortunately, it also included two fumbles.
After the game, he tried to play the loss down.
"Everyone took turns today," he said.
"We lost the turnover battle and we lost the situational battle. That's all it is. It's one game. If we're going to blow up everything after the good things that we've done after one game, then this game ain't for some of those people. We are just fine. We're going to be fine."
No big surprise here. https://t.co/XO4omBPkk4

— Game 7 (@game7__) September 27, 2020
Running back Josh Jacobs also fumbled the ball away en route to a 16 carry, 71-yard showing.
"Definitely frustrating because we know we could be better," Jacobs said.
"We know there are a lot of things we should have done better. But credit to them, they capitalized on our mistakes."
Gruden echoed those sentiments.
"We fumbled the ball in the red zone," he said.
"We missed a field goal that we should make. We can't stop the run in the second half. There are some issues that add up to a loss."
Wide receiver Hunter Renfrow, for his part, attempted to look at the glass as half full.
"It's frustrating, but also encouraging because we know if we don't make those mistakes, we put ourselves in a chance to be competitive," he said.
The Washington Football Team decided to send a message. https://t.co/wZVcPVpfGn

— Game 7 (@game7__) September 27, 2020
"If we can control what we can control and go out there and take care of the ball and protect the quarterback and make some catches, then we'll have a good chance of winning."
The Raiders are now 2-1 on the season, with a showdown against the 3-0 Buffalo Bills scheduled for next week.
Related: Mike D'Antoni Clear Favorite For 76ers Head Coaching Job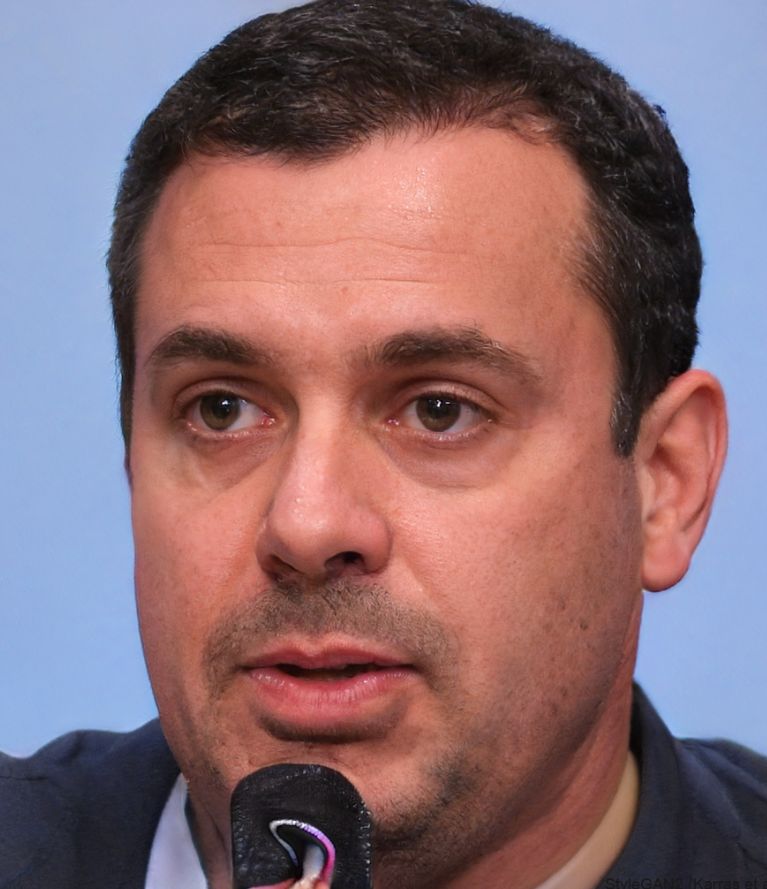 Charles Kruger has been credentialed to cover two Super Bowls, four NBA Finals, and one World Series. A 20-year veteran in the sports world, he has sources spanning the NBA, MLB, NFL, UFC and NASCAR. Currently residing in Los Angeles, Calif., he is Game 7's go-to source for rumors surrounding the Lakers, Clippers and Dodgers.