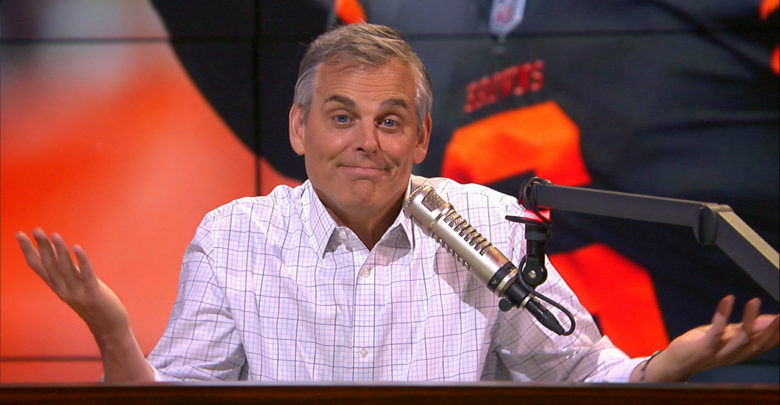 Colin Cowherd Has Message For Giants Fans
Colin Cowherd has a message for Giants fans.
That message? Your team hired the worst available coach.
After the NFL regular season came to an end, a game of musical chairs with various coaching candidates ensued.
With the Cleveland Browns' decision to name former Minnesota Vikings head coach Kevin Stefanski their new head coach, that game has finally come to an end.
When all the dust settled, Stefanski went to Cleveland, Judge headed to New York, Ron Rivera signed with the Washington Redskins, Matt Rhule joined the Carolina Panthers and Mike McCarthy landed with the Dallas Cowboys.
On his radio show this week, Cowherd offered his analysis of each hire and who he felt came out best.
In Cowherd's estimation, most organizations did the best they could with the options they had.
The one notable exception he had to that rule was New York. He felt the Giants really dropped the ball with Judge.
Cowherd was originally going to grade the hire a C-, but decided against it when he heard the praise Nick Saban and Bill Belichick had for Judge.
Will Mike McCarthy work in Dallas?

Have the Cleveland Browns found their coach?

Professor @ColinCowherd grades new NFL head coaching hires with @JoyTaylorTalks: pic.twitter.com/MN4CcODl3H

— Herd w/Colin Cowherd (@TheHerd) January 15, 2020
"I was gonna go C-, but I'll go C+," he said.
"(Nick) Saban said this week, 'He's one of the brightest coaches in the profession' and (Bill) Belichick said he thinks he's one of the few coaches he's ever had that could coach every part of the team.
"I was a little hot on my first take which was, 'Good hell, you gotta give me a break.' He has gotten rave reviews from Saban and Belichick."
Aside from Judge, Cowherd also gave his grades for the other teams that hired new coaches. The Redskins got an A- for Rivera. Carolina received a B+ for Rhule. The Cowboys got a B for McCarthy. And Cleveland earned a B- for Stefanski.
Cowherd's grades aside, it will obviously take a few more years to really know who made the best coaching hires over the past few weeks.
Related: Colorado Rockies Trading Nolan Arenado To Atlanta Braves?