NFL
News
UFC/Boxing
Cleveland Browns Star Embarrasses Himself At UFC 246
Cleveland Browns Star Embarrasses Himself At UFC 246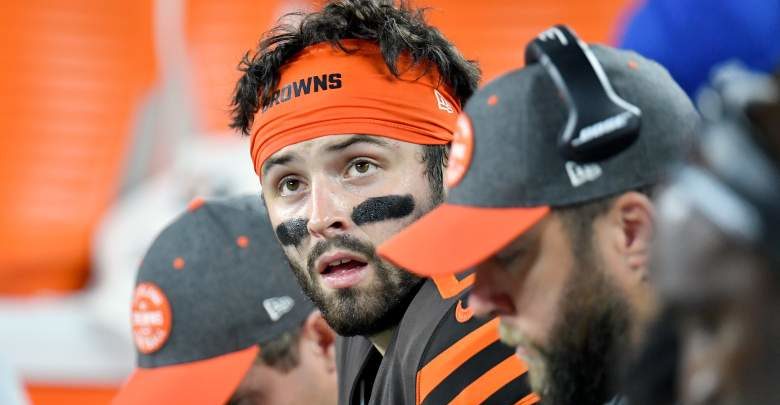 Cleveland Browns Star Embarrasses Himself At UFC 246
A Cleveland Browns star embarrassed himself at UFC 246.
The big names were out for Saturday night's big showdown between Conor McGregor and Donald 'Cowboy' Cerrone.
It marked McGregor's big return to the cage after an extended absence, and many celebrities were on hand to see if the Irish star could return to the top of the MMA mountain.
McGregor ultimately ended up having a great evening. With the eyes of the world on him, he made quick work of Cerrone – closing his opponent out in just 40 seconds.
One of the stars who came out to see him had a far less impressive evening.
Browns starting quarterback Baker Mayfield was humiliated at UFC 246 when the broadcast refused to recognize him while panning the crowd for celebrities.
What made matters worse is that he was sitting next to teammate Myles Garrett, who was immediately recognized as a star.
Other prominent NFL players like Tom Brady and Christian McCaffrey were also recognized.
Immediately afterwards, the jokes at Mayfield's expense immediately began rolling in on Twitter.
They acknowledged Myles Garrett but completely ignored Baker Mayfield who was RIGHT there 😂😂😂 #UFC246 pic.twitter.com/jAlZMIPdjG

— Joel Spencer (@Joel_Spencer_) January 19, 2020
Ouch. Celebrity shots at UFC 246. "Former number one pick of the Cleveland Browns, Myles Garrett!"

He was sitting right next to former number one pick of the Cleveland Browns, Baker Mayfield.

Not a mention. They moved on to Tom Brady.

— Will Cain (@willcain) January 19, 2020
Mayfield is having something of a rough few months. This past season he regressed badly in his sophomore campaign, and Cleveland ended up finishing the season with a disappointing 6-10 record.
The hope was that 2020 would be a better year for Mayfield, but so far it has gotten off to a less than ideal start.
Related: Blonde Fan Goes Viral At UFC 246: McGregor vs Cerrone