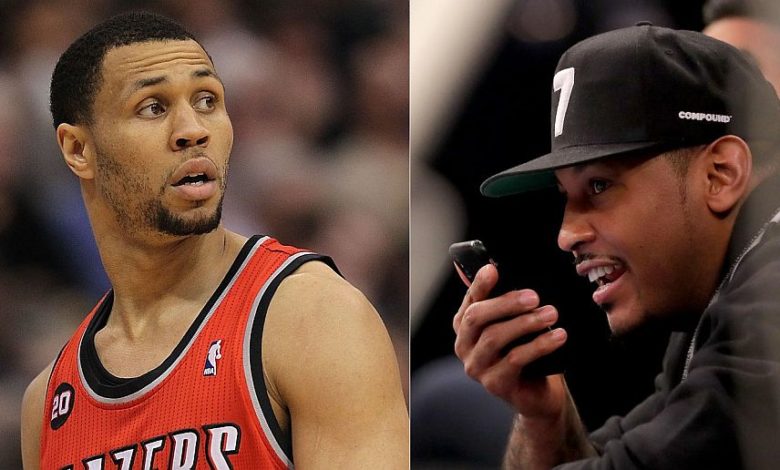 Brandon Roy is one of the most beloved players in Portland Trail Blazers history. Although injuries robbed him of his full potential, the former Washington standout earned the respect of just about everyone he crossed paths with.
As a result of that respect, the Blazers refrained from giving Roy's number out to anyone else – including future Hall of Famer Carmelo Anthony.
This week, Roy came out and said that it would be an honor for Anthony to wear his number.
"I would be honored if he wore it," Roy told Jason Quick of The Athletic. "So we should (let him have it)."
Along with endorsing Anthony receiving his number, Roy also shared a story of the special gift that Anthony gave him and his family 11 years ago on Christmas Day.
Following a showdown between the Blazers and Denver Nuggets, Roy approached Anthony and asked if his cousin, Juleesa Johnson, could meet him.
Johnson was a huge fan of Anthony's and also battling cancer.
"I asked Melo if my cousin, who was sick from cancer, could shake his hand and take a picture with him," Roy said.
Despite being with his family and having other things to do, Anthony immediately obliged.
"He said, 'Of course,'" Roy continued. "Made her night. He was her favorite player."
Johnson went on to pass away less than two years later.
The memory of Anthony's actions always stuck with Roy.
Last week, Anthony admitted that he would love to wear the No. 7 with Portland.
"Listen, if Portland gives me No. 7, I'll be happy," he said. "I'll be thrilled. We need a petition for that. I need No. 7."
"If Portland gives me number 7, I'll be happy. I'll be thrilled. We need a petition for that. I need number 7"

Carmelo Anthony on wanting to wear No. 7 with the Trail Blazers#RipCity | @carmeloanthony

Also, @jwquick was on fire in this presser. Master of his craft pic.twitter.com/UJIhHnM3bN

— Orlando Sanchez (@orlandokgw) December 4, 2020
Anthony previously wore the No. 7 over the course of the eight years during which he played for the New York Knicks, Oklahoma City Thunder and Houston Rockets.
Roy sees this as the perfect opportunity to repay a favor done for him.
As of Tuesday, no decision had been announced on whether Anthony would ultimately be permitted to take Roy's number.
Yikes. https://t.co/FPN0pOZYH6

— Game 7 (@game7__) December 8, 2020
However, if all parties involved are okay with it, it would seem odd that Blazers management would object.
Related: Danny Green's Interesting Message To Lakers