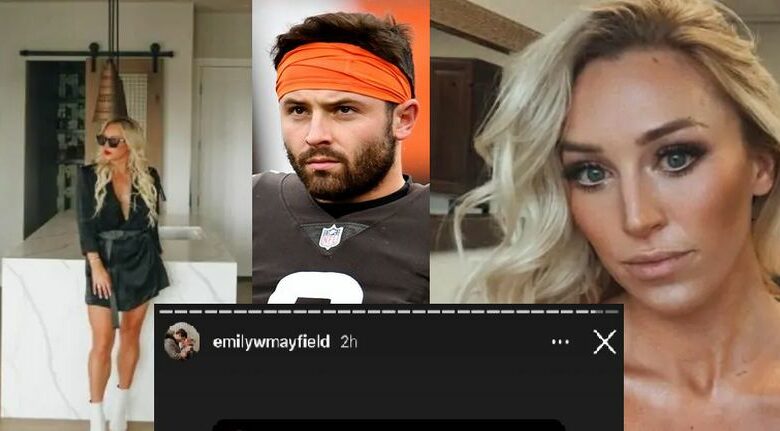 Baker Mayfield's wife Emily has consistently been a strong presence around him.
Unsurprisingly, with his time as the starting quarterback of the Cleveland Browns coming to an end, Emily has been on top of all the latest developments.
Late Tuesday, it came out that Cleveland was actively seeking to acquire Deshaun Watson to be the team's starting quarterback next year. Obviously that served as a signal that Baker's departure was imminent.
Surely enough, additional reports corroborating that emerged over the next 24 hours.
"After some conversations, even if the Cleveland Browns are not able to land QB Deshaun Watson, the sense I get is Baker Mayfield will still consider other options," reported ESPN NFL insider Dianna Russini.
Why? Because the Browns are over him, apparently.
According to Chris Mortensen of ESPN, the Browns "want an adult" at quarterback – and apparently Baker does not qualify.
Given that so many of Baker's own teammates clearly dislike him, none of this should come as a huge surprise.
Not long after the Watson rumors started getting particularly loud, Baker took to social media to offer a goodbye letter of sorts to Cleveland.
"I have given this franchise everything I have," he wrote on Twitter. "That is something I've always done at every stage, and at every level. And that will not change wherever I take my next stop. Whatever happens.. I just want to say thank you to the fans who truly embraced who I am and the mentality that aligned so well with this city's hard working people."
Emily, in turn, offered this response: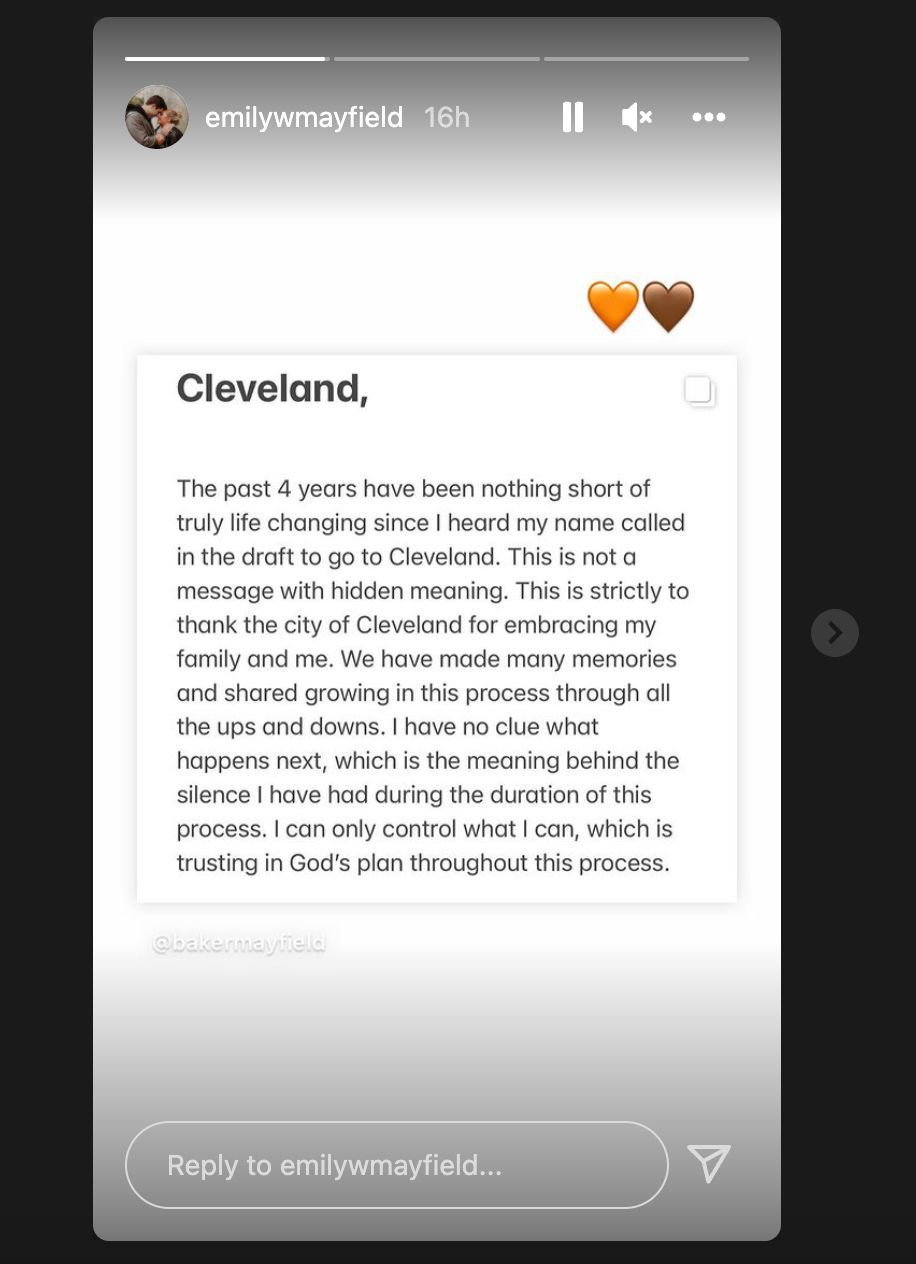 Emily, of course, is no stranger to getting involved in Baker's affairs. Whether she is posting cryptic messages on social media or showing off her provocative Halloween costume – she is always going viral for one reason or another.
It will be interesting to see where this story goes from here.
According to The Athletic NFL insider Jeff Howe, there are four teams presently in the running for Mayfield's services.
"The Colts, Saints, Seahawks and Panthers should be viewed as possible landing spots, pending the Deshaun Watson trade," he wrote.
Paul Pierce is at it again. https://t.co/UqUOOIOUIn

— Game 7 (@game7__) March 16, 2022
Of that group, Baker himself has a clear preference to end up with one specific team.
Time will tell if he gets his wish.
Watch this space. What happens with Baker will ultimately have massive ramifications not only for him and Emily – but the NFL as a whole.
Related: Davante Adams Gives Green Bay Packers 2 Choices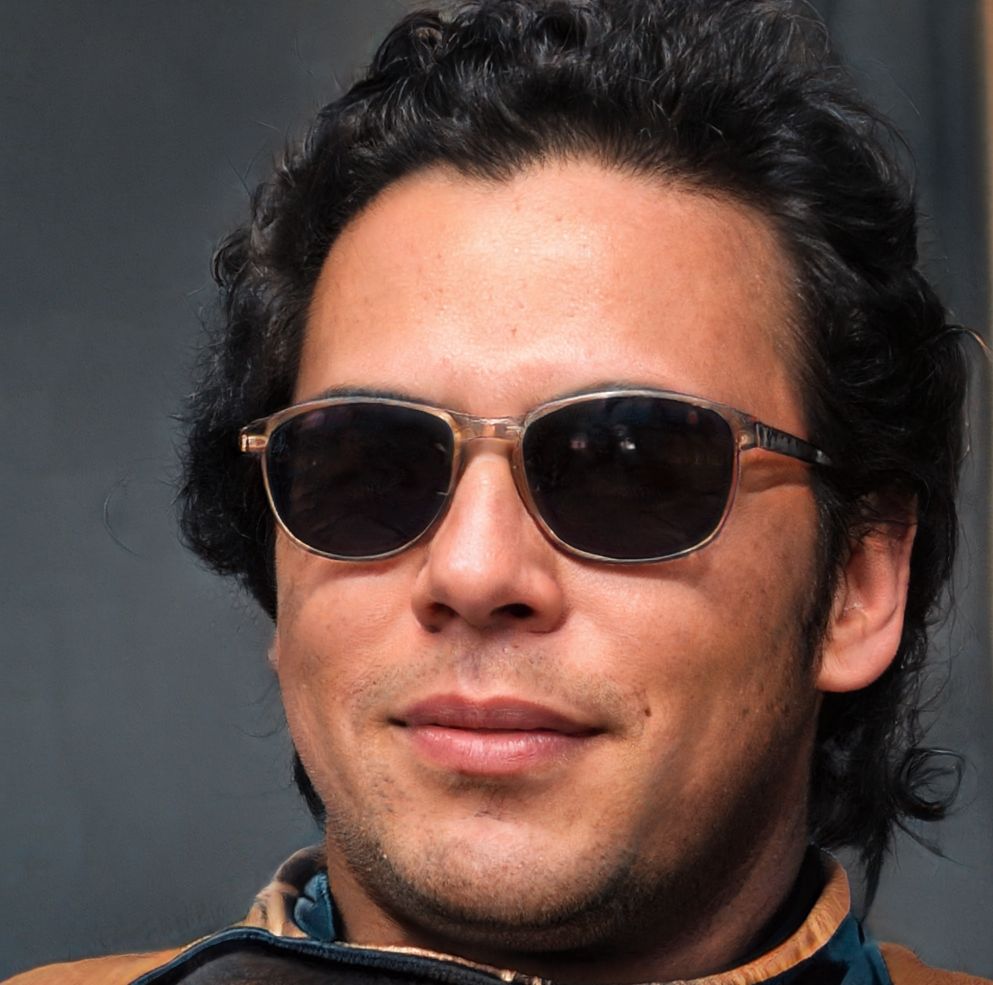 A longtime sports reporter, Carlos Garcia has written about some of the biggest and most notable athletic events of the last 5 years. He has been credentialed to cover MLS, NBA and MLB games all over the United States. His work has been published on Fox Sports, Bleacher Report, AOL and the Washington Post.