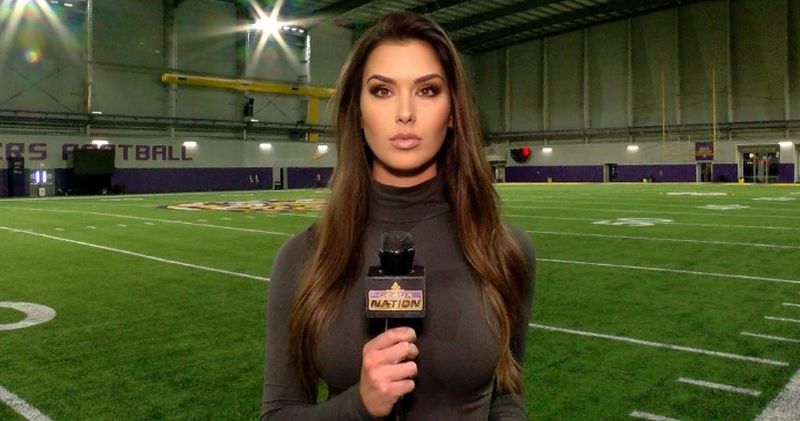 Aileen Hnatiuk has quietly become one of the biggest sports media stars around in 2023.
Earlier this year her coverage of the New Orleans Saints caused something of a stir.
This week the trend continued when she turned her sights on LSU's Pro Day.
Hnatiuk started by sharing imagery of herself preparing for the event.
From there, she got down to the nitty-gritty.
#LSU DB Jarrick Bernard-Converse misses the bar on this attempt but finishes with a 42" vertical

Pretty impressive number for the senior who was not invited to the combine! pic.twitter.com/E44gmwiXMh

— The Jordy Culotta Show (@CulottaShow) March 29, 2023
DB Jarrick Bernard-Converse (@TheJBnard) continues to have himself a day#LSU pic.twitter.com/2tz66mQQnE

— Josh Sibley (@RealJSibley) March 29, 2023
Hnatiuk obviously isn't the only sports media star to blow up online this week. Between Erin Andrews' wild vacation photos and Jalen Rose's handsy display with Malika Andrews, it has been one thing after another.
That said, it's easy to see why Hnatiuk is becoming so popular. Everything she posts on social media is a hit nowadays.
Hnatiuk also covers LSU from every angle, as evidenced by her posts from the past 24 hours. Women's basketball, collegiate baseball – she keeps an eye on it all.
— Aileen Hnatiuk (@AileenHnatiuk) March 31, 2023
Big time win for #LSU https://t.co/VqBAX6zqRz

— Aileen Hnatiuk (@AileenHnatiuk) March 31, 2023
As college football season approaches, it will be interesting to see if Hnatiuk shifts gear and lends more focus onto that.
Particularly given how intriguing of an offseason head coach Brian Kelly had, what with his daughter's wild party photos going viral and all the questions surrounding his marriage.
More proof that Tom Brady and Reese Witherspoon are now a thing.https://t.co/WH8voIaqJu

— Game 7 (@game7__) March 30, 2023
It's going to be a busy year for Tigers fans, no matter what.
By any objective measure, Hnatiuk is one of the biggest rising stars in all of sports media.
What will Hnatiuk ultimately go viral for next? Time will tell.
Related: Houston Astros Player Gets Handsy With Megan Thee Stallion (Video)